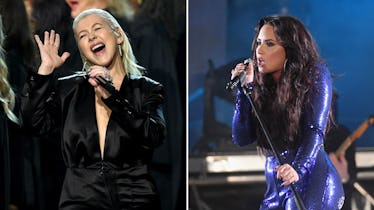 Demi Lovato Just Dropped A Song With Christina Aguilera & My Ears Were NOT Ready
Kevin Winter & Rodrigo Varela/Getty Images Entertainment/Getty Images
A Christina Aguilera and Demi Lovato female empowerment song? Uh, yes please! My most main girls have gotten together to collaborate on the new anthem of my life and I am so grateful. The two powerhouses teamed up on a song called "Fall In Line" and it's everything you've wished for that you didn't even know you wanted. (Or maybe you did. I always want some more Demi and X-Tina in my life.) Christina Aguilera's "Fall In Line" lyrics are truly epic and will have you and your girls shouting, "AMEN!"
The song is actually a track off of Aguilera's new album, Liberation, set to release on June 15. She and Lovato will be performing "Fall In Line" at the Billboard Music Awards this Sunday, May 20, and if there aren't pyrotechnics involved, I will be shocked. The truth is, Lovato and Aguilera's vocals speak for themselves, and while a little fire and leather never hurt anyone's performance, these two women certainly don't need it. Liberation is Aguilera's first album in six years since the debut of her last record, Lotus.
So far, "Fall In Line" has an accompanying lyrics video, which is the ultimate teaser to what I assume will be an epic music video. If you're at work, I highly recommend taking your headphones and laptop to the bathroom or conference room, where you can get into this jam with some privacy. (Or blast it in your office, whatever.)
I highly recommend reading the lyrics as you listen to it to really let them sink in.
Here are the lyrics:
[Verse 1: Christina Aguilera] Little girls, listen closely / Cause no one told me / But you deserve to know / That in this world, you are not beholden / You do not owe them / Your body and your soul
[Pre-Chorus: Christina Aguilera] All the youth in the world will not save you from growing older / And all the truth in a girl is too precious to be stolen from her
[Chorus: Christina Aguilera & Demi Lovato] It's just the way it is / And maybe it's never gonna change / But I got a mind to show my strength / And I got a right to speak my mind / And I'm gonna pay for this / They're gonna burn me at the stake / But I got a fire in my veins / I wasn't made to fall in line / No, I wasn't made to fall in line, no
[Verse 2: Demi Lovato] Show some skin, make him want you / Cause God forbid you / Know your own way home / Ask yourself why it matters / Who it flatters / You're more than flesh and bones
[Bridge: Male Voice] Yea, two, three / Right — two, three / Shut your mouth / Stick your *ss out for me / March — two, three / Two, three / Who told you you're allowed to think?
So. Good. Right?!?!
According to Rolling Stone, this isn't the only major collaboration X-Tina is getting into. She also has a song called "Accelerate," which was produced by Kanye West and features 2 Chainz and Ty Dolla $ign. Reportedly, Big Boi just signed on as a special guest to the Liberation tour, too.
That's all well and good, but where else can I see her and Demi???
To catch their live performance of "Fall In Line," tune into the 2018 Billboard Music Awards at 8 p.m. ET this Sunday, May 20, on NBC.
Check out the entire Gen Why series and other videos on Facebook and the Bustle app across Apple TV, Roku, and Amazon Fire TV.