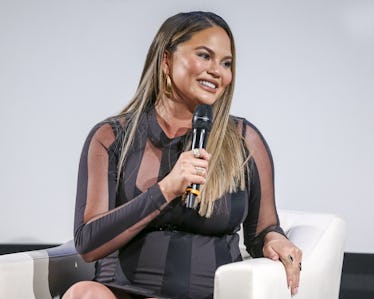 Chrissy Teigen Revealed How She Feels About Her "Mom Bod" & It's So, So Relatable
Rich Polk/Getty Images Entertainment/Getty Images
Your body is a masterpiece that changes to grow with you, not against you, but if browsing social media pages of Instagram models and fitness gurus makes you feel self-conscious from time to time, you're not alone. While you might be well aware that these kinds of bodies are, for the most part, nowhere near the norm outside your Instagram feed, when your body is going through significant changes, like the kinds that happen after having a baby, those photos can sometimes make you feel insecure or unsure about your own body. Take it from Chrissy Teigen's "mom bod" video: Body confidence is a journey; sometimes you have it, and sometimes you don't, but this mom of two wants you to know that, in this moment, she's right there with you, and that vulnerability you're feeling? It's totally OK.
You and I are our own worst critics, and celebrities aren't immune to that same kind of self-criticism. Chrissy Teigen, especially, has never been shy about her relationship with her body, and she's always updating fans on how she's feeling in the moment. Of course, Teigen is and always has been a natural beauty, but after giving birth in May, it's understandable that she'd feel at least a little out-of-sorts in her own skin because, in a sense, she's experiencing a brand new body as she adjusts to the many natural changes pregnancy brings about. Still, just because "mom bods" are natural, doesn't mean they feel natural right off the bat. But even if you don't have kids or aren't trying to get pregnant anytime soon, Chrissy Teigen's tweet about her "mom bod" is honestly so relatable, no matter what kind of bod you're rocking.
The 32-year-old celeb took to Twitter on July 30 to share a video of herself, and instead of posting a filtered glamour shot, the Lip Sync Battle hostess recorded a five-second candid clip focusing on her stretch marks. The shot is a close-up of Teigen's torso, but her commentary is really what makes the moment so memorable, because she acknowledges that this is her "new body," stretch marks and all.
She followed the video clip with a series of tweets to point out that, despite her celebrity status, even she gets caught up in the so-called "perfect" bodies of Instagram from time to time, and occasionally "forgets" what "regular ol' bodies look like." As of posting these tweets, she continued, she doesn't exactly feel confident in her body, but she hopes that sharing her stretch marks and opening up to fans about her insecurities might help others feel better about themselves.
After Teigen posted the video of her "mom bod" to Twitter, fans made sure she knew just how much they loved her honesty.
It really doesn't matter what stage you're at in life. Body positivity and acceptance is something everyone struggles with, and Teigen's video is a testament to that.
Even if you're not a new mom or planning on having babies anytime soon, your body is going to grow, and it's going to change. And the truth of the matter is, you may not always feel super comfortable in your own skin. The reason why Teigen's transparency is so inspiring is because it's definitely not easy to admit when you're feeling unhappy with your body, or when you're a little, maybe even a lot insecure about the way you look. But instead of hiding from her insecurities, Teigen is owning them; she's learning to accept the skin she's in, the body that's given birth to her two beautiful babies, and the same physique that will live and grow with her throughout every phase of life going forward. And that is truly inspiring.