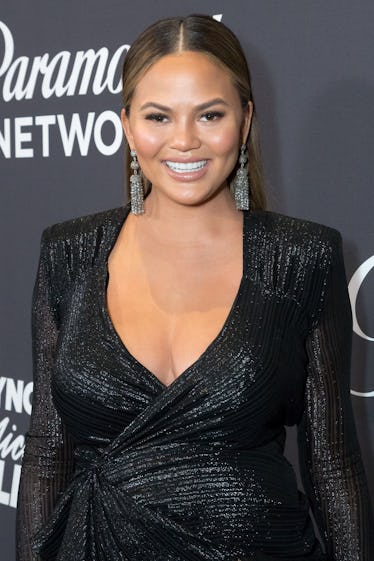 Chrissy Teigen Posted The Cutest Instagram Of Luna With Miles & Nope, I Can't Handle This
Greg Doherty/Getty Images Entertainment/Getty Images
Happy Tuesday, everyone! I hope y'all had a relaxing weekend because real life is officially back, which means it's time to dive back in to our regularly scheduled programming of fawning over the lives of celebrities. Chrissy Teigen, the internet's favorite woman, gave birth to baby Miles Stephens on May 17 and debuted the first photo of him on May 20. Now we have been #blessed with the first photo of Luna and Miles together, and Chrissy Teigen's Instagram of Luna and Miles is the most precious thing you'll see all day.
The Lip Sync Battle star posted the adorable photo to Instagram and Twitter on Monday, May 28. It showed baby Miles laying in a faux fur bed (as one does) with big sister Luna lovingly looking down on him. She's helping put his pacifier back in his mouth in the shot and it's going to make your heart melt. Teigen's heart clearly was melting, seeing as the only caption she could muster through all the cuteness was a red heart emoji. She also gave a shout out to the man who took the photo — John Legend's brother, Ron Stephens.
Just look at this photo and tell me your heart isn't melting!
Things I cannot handle: not this.
John Legend opened up about how Luna is adjusting to being a big sister in a red carpet interview on Monday, May 21. He said,
[Luna's] used to having us to herself ... I think she's just starting to realize though that he might be competition. So in some ways, it's good because she's stepping her game up. She's being more loving, she's singing louder, and dancing harder. She's making sure we don't stop paying attention to her.
When it comes to Miles, Legend said he feels privileged to have the chance to raise a boy, but admits that the Time's Up and #MeToo movements have him concerned about the challenge of raising his son to be emotionally intelligent. "I think it's kind of a special privilege for me to raise a young man. I want to try to give him the best advice and be a good man," he said. Legend continued,
Particularly right now, a lot of us are trying to figure out how to raise good men in this era when a lot of bad behavior by men is being exposed. We want to make sure we're raising young men that grow up to be kind and empathetic and emotionally intelligent, and also good leaders and successful in everything they do.
He continued, "So I'm going to try to do that with [Miles]. I'm going to try to do that with [Luna] as well. But it is a special challenge right now raising a young man."
She and Legend shared the first photo of the little guy on May 20.
The caption read, "Hello, world! This is Miles Theodore Stephens - We are drowning in his little peeps and nuzzles. Our household feels overwhelmed with love. Thank you for all your well wishes!"
Then Teigen posted the most hilarious photo of her, Miles, and Luna that shows the reality of her life with two kiddos.
With baby Miles wrapped in a blanket in one arm and a fancy pear in her other hand, Teigen said, "If you haven't seen @aliwong's new Netflix special, you are bad at picking Netflix specials #asianpearunderwear." In the photo, Teigen is topless (it looks like she might have been breastfeeding in the photo, but the blanket makes it hard to tell) and wearing a long skirt that shows the special underwear lots of new moms have to wear after giving birth. Ali Wong jokes about this underwear in her new Netflix special Hard Knock Wife by comparing it to the fancy pears wrapped in a similar mesh, and that's what Teigen's shouting out here.
This is also technically the first photo of Luna and Miles together that we got to see, but Luna is completely preoccupied with her pink harp in the shot, so I doubt she even realized a photo was being taken. Here's hoping Chrissy and John continue to post these adorable photos of their kids together.