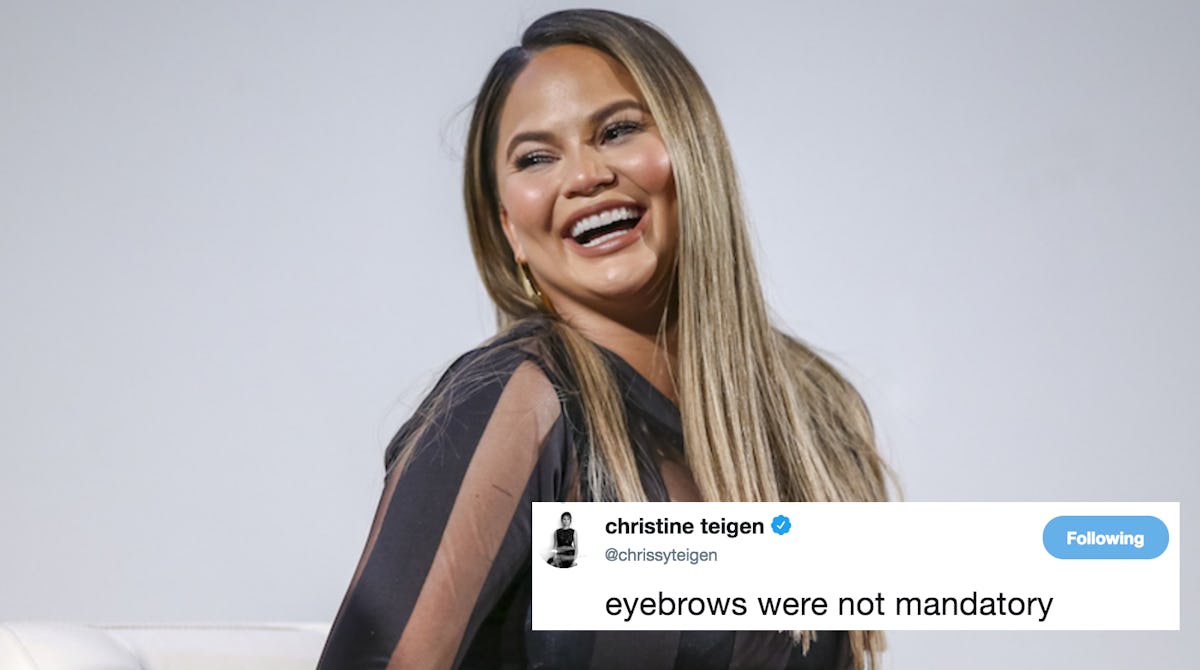 Chrissy Teigen Just Shared Her Awkward High School Pics On Twitter & I'm Crying Laughing
Rich Polk/Getty Images Entertainment/Getty Images
I might be in the minority here, but I loved high school. I loved my bell-bottom jeans. I loved my American Eagle clogs. I loved hitting the Dunkin Donuts drive-thru on Fridays, and I loved extracurriculars. It didn't matter what the activity was. If there was a club for it, I wanted in. Looking at Chrissy Teigen's high school pictures as a cheerleader bring me wayyyy back to when I thought I could cheer, too. Teigen also reminded me everyone has their awkward years, even supermodels. Bless them.
As you guys have probably heard, Teigen is expecting her second baby and seems to just be chilling at home waiting for his arrival. As usual, she's been keeping up with her regular social media shenanigans and posting funny videos for fans to soak up while she/we wait. On May 14, Chrissy Teigen Entertainment Hour came by way of Twitter and included some throwback pictures to her "awkward teen years." (Read: Just a younger, still gorgeous Chrissy.) In the pictures, she's a part of a cheer squad, which she explains in her tweets.
Chrissy posted:
When I was in HS, everyone made the cheer team but they made a "red squad" and a "white squad". Red got basketball and football and white got girl's volleyball and wrestling. It was unspoken that one was quite obviously JV lol. I was on white of course.
She added, "Cheering for wrestling was MY SH*T. Sitting while cheering??? It was made for me."
Please look at this photo.
That's Chrissy top row, second to the left. But you guys knew that already.
The truth is, if there is one word we can all use to describe Chrissy, it's gotta be "relatable." Somehow, even with her multi-award-winning husband, modeling career, and ca$h money, I kind of feel like I'm her girl. Know what I mean?
Following Chrissy on social media is like following your best friend from ninth grade. She regularly says whatever's on her mind, posts cooking triumphs and fails like the rest of us, and makes fun of her husband in a way that makes you forget he's literally John Freaking Legend. Her baby boy is scheduled to make his debut sometime this June, which is creeping up, and I can't wait for the posts she crafts then!
In early March, she posted one of those highly detailed ultrasound pictures with the hilarious caption, "hello I'm a bebe boy kinda." And listen, every baby is beautiful — but I say we go back to the classic black and white blob photos, because this sh*t is terrifying.
On a serious note, as Teigen prepares to welcome her new son, she is also reflecting back on her struggle with postpartum depression after the arrival of her first child, Luna. People reports she opened up about her concerns with her friend and hairstylist Jen Atkin during the Create & Cultivate conference earlier this year. Reportedly, she told Atkin,
Do I worry about it with this little boy? I do. But I also know that when it does happen — if it does — I'm so ready for it. I have the perfect people around me for it. That's why I stand for a real core group of people around me.
One thing is for sure, if this baby boy's "awkward phase" is anything like Teigen's, we're all in trouble. Can you guys even imagine what kind of heartbreaker John Legend's and Chrissy Teigen's son is going to be? Hide yo kids, hide yo wife.
Check out the entire Gen Why series and other videos on Facebook and the Bustle app across Apple TV, Roku, and Amazon Fire TV.