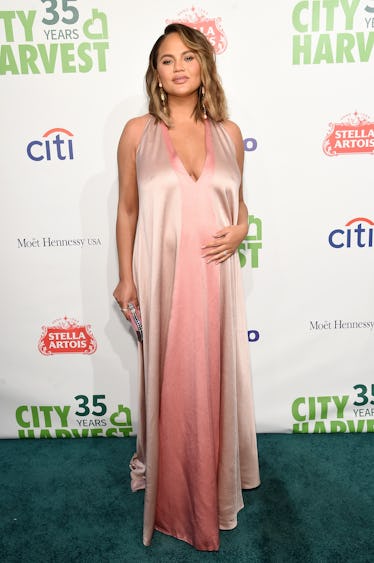 Chrissy Teigen Is "Over" Being Pregnant & The Reason Why Is Adorable
Jamie McCarthy/Getty Images Entertainment/Getty Images
Add another reason of why I love Chrissy Teigen onto the already-long list. We already know that the Lip Sync Battle star is expecting her second child — a son — with husband John Legend, but she had some adorably sweet (and hilarious) thoughts about her pregnancy, and naturally took to Twitter to talk about it. Apparently, Chrissy Teigen is "over" being pregnant, but the reason why is kind of adorable and makes total and complete sense.
Teigen first told the world she was expecting her second child by announcing it on Instagram on Nov. 21. in the cutest way possible — with her daughter Luna, of course. In the video, you hear Teigen say, "Luna, what's in here?", as she pointed the camera to her stomach. Luna then grabbed Teigen's stomach and said, "Baby!" From there, my world was forever changed (I mean, maybe the Teigen-Legend's lives were also changed a little bit too, but who matters more in this story?), and I pretty much re-visit the Instagram video on a daily basis because I can't help myself when it comes to little Luna.
You can check out the video below, but I'm just warning you: Your heart might explode into a million little pieces.
And now that we know that she's expecting a little boy sometime in June, we are so, so ready to meet him... and apparently, so is Teigen. Like, so ready to meet him that she can barely stand being pregnant for one more second, and who can even blame her? Pregnancy does not sound like fun to me. You're always tired, the morning sickness seems unbearable, and you can't even tie your shoes towards the end.
Hard pass.
But I digress. Instead of talking about the ~joys of pregnancy~, Teigen got real with her fans on Twitter, saying that she's no longer a "happy pregnant" person, and that she's totally "over it," adding that the only thing she wants to do is finally meet and hold her little baby boy (awww!). On May 9, Teigen tweeted,
Happy pregnant Chrissy is gone. meet OVER IT Chrissy. Wanna hold my boy let's do thisssssss
Then, one fan commented that it feels like Teigen has been pregnant for "three years," and Teigen was in complete agreement. She commented, saying,
It feels worse for me because with IVF you know *so* early. I mean I knew I was pregnant at 11 days in. Crazy.
Dear god, I didn't even think of that. Imagine knowing within a matter of days that you were pregnant, and having to wait the entire three trimesters for your due date?
Nope. No. Nuh-uh. I'd much prefer not knowing for like, the first 30 weeks that I was pregnant. This isn't the space for judging, so y'all can just deal.
But in all honestly, I'm pretty stoked to see Luna finally get a little sibling, and to see her reaction to the newest addition. John Legend told People that he and Chrissy Teigen are beyond excited for their second child, but Luna might have a bit of a wake-up call once he arrives. "I don't think Luna has a concept of exactly what it means to have a little sibling yet. She'll figure it out sooner or later, and she'll probably have some moments where she regrets it! But we're excited."
LOL, yeah. Take it from someone who's the youngest child: We will steal your thunder. We will upstage you in cuteness. You cannot win, because we are always smaller, tinier, and parents allow us to get away with much, much more. Sorry Luna, those are just the rules of the road.
But don't worry, Luna, you'll always be number one in our hearts. I mean, who could resist a face like yours?
Not a single person, that's who.