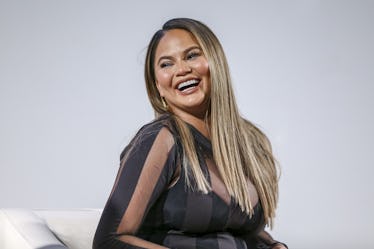 Chrissy Teigen Questioned Melania Trump's Gardening Skills & How Did I Not See This
Rich Polk/Getty Images Entertainment/Getty Images
Chrissy Teigen isn't one to mince her words when it comes to President Donald Trump and his family. Teigen frequently trolls President Trump with his own tweets. This time, another member of the Trump clan is the butt of another one of her Twitter jabs. No one seems to be off limits when it comes to Teigen's wit and wisdom, including first lady Melania Trump. Chrissy Teigen tweeted about Melania Trump's gardening photo, and it's a real zinger.
Teigen, a well-known liberal, isn't afraid to call the current political climate like she sees it. In a tweet posted to her Twitter account on Tuesday, July 31, Teigen calls into question Melania Trump's gardening hobby. The tweet is accompanied by two photos of the first lady attending an event with schoolchildren in the White House Kitchen Garden in September 2017.
"these look exactly like my workout soles. because i work out as much as this chick gardens." -@chrissyteigen
In the tweet, Teigen first takes a knock at herself, noting that exercising just isn't her thing these days. But, Teigen also seems to suggest that Melania Trump, despite these photos of her out amongst the vegetables, isn't quite the avid gardener that former first lady Michelle Obama was. In one of the photos shared by Teigen, Melania Trump is seen wearing red gardening gloves and appears to be bending down to grab a wicker basket.
In the second image posted by Teigen, she zooms in on Melania Trump's footwear to drive the point home. The first lady is wearing blue sneakers with a white sole. Melania Trump's shoes in this picture definitely don't look like my beat up old pair of backyard kicks, but it's possible the first lady donned a new pair shoes for the special event. After all, Melania Trump is pictured wearing a crisp and clean $1,380 red plaid Balmain button-up blouse in the gardening photos, according to Business Insider.
The White House Kitchen Garden was championed by Obama when she planted the produce garden on the White House south lawn in 2009. Her passion for gardening led to the creation of the Let's Move campaign, aimed at promoting healthy eating for children.
Twitter users got in on the ribbing and tweeted back to Teigen with their own clever responses.
Melania Trump has been known to use the White House Kitchen Garden from time to time. In April, French President Emmanuel Macron and his wife Brigitte visited the White House for a three-course dinner. According to The Washington Post, ingredients from the White House Kitchen Garden were used in making dinner for the European guests at Melania Trump's first state dinner. This included bell peppers, celery, herbs, and onions from the garden planted by Obama, according to TIME. It's unclear to what extent Melania Trump is involved in the upkeep and maintenance of the garden, but she does appear to use it when meal planning for guests.
Despite the dinner menu, Teigen is still calling into question Melania Trump's gardening skills. Teigen frequently uses the platform to share her political outlook with her followers. Her longstanding social media feud with President Trump is well-documented. In fact, the model and mom of two children was even blocked by President Trump on Twitter at one point.