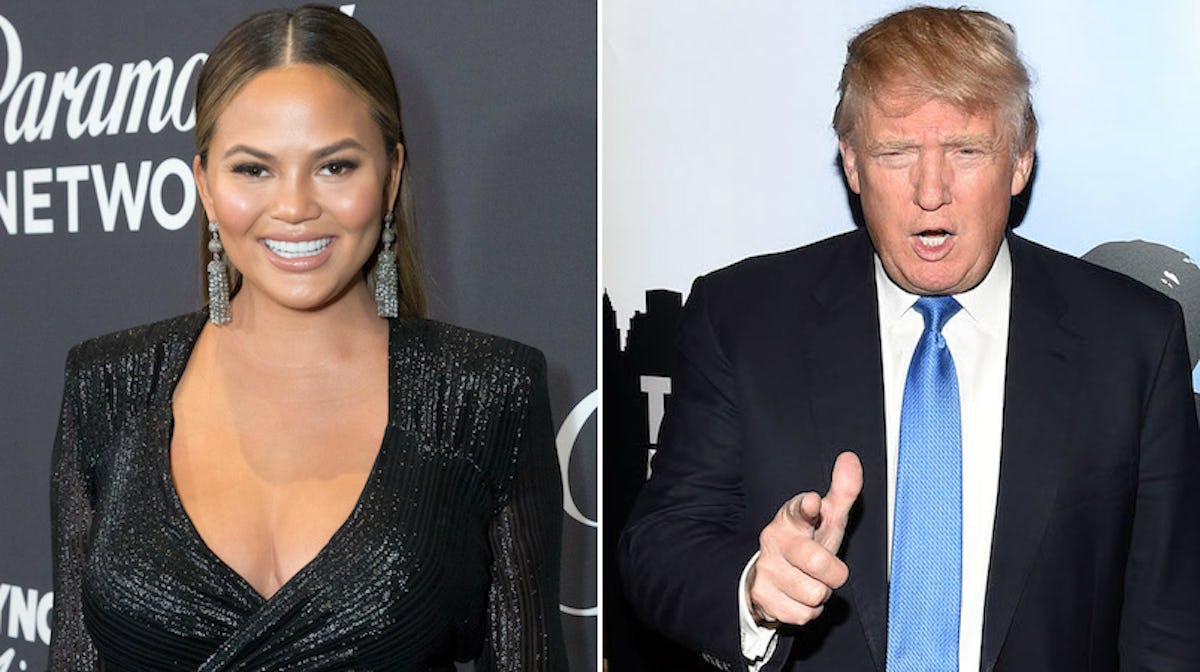 It's Not Even Donald Trump's Birthday Yet & Chrissy Teigen Is Already Trolling Him Hard
Greg Doherty/Andrew H. Walker/Getty Images Entertainment/Getty Images
By now, you're probably aware of Chrissy Teigen's... distaste for Donald Trump, yes? I mean, she's been pretty vocal about the president for years and years on social media, so really, did you think she was going to stop all of that just because Trump is going to be celebrating his birthday in just one week? LOL, nope, of course not. But believe me when I say that Chrissy Teigen trolling Donald Trump with his own birthday card on Twitter is truly a sight to see. It's equal parts funny and awkward and, TBH, does not disappoint.
For Donald Trump's birthday, the Trump Make America Great Again Committee has created a site that allows anyone to send a note to the president for his birthday, and I feel like maybe they didn't think this thing through too well. Yes, you can write anything you'd like to President Trump for his birthday, which I'm sure many people will take advantage of and really write what they feel — which is probably not a good thing, if you know what I mean.
Chrissy Teigen picked up on this real quick, and took to Twitter to sarcastically tell her fans about how we should all "come together" for Trump's "special day." On Wednesday, June 6, Teigen wrote,
Hey guys, let's put the jokes aside and all come together to send president trump some birthday messages on this official card where you can write anything u want, all your thoughts and feelings absolutely anything anything for this special day
Can you even imagine what, erm, thoughtful message Chrissy Teigen is going to be crafting up?
I truly hope that it's something she screenshots and shares with the world.
Fans were quick to share their own birthday notes for the president and basically had a field day doing it:
Boom! Roasted.
Remember, this all comes just two weeks after it was found that Trump blocking people on Twitter was ruled unconstitutional, meaning, yes, Trump is no longer allowed to block Chrissy Teigen. It was argued that Trump is violating the First Amendment (that whole freedom of speech thing, for those of you who need a refresher), and, per The New York Times, on May 23, Judge Naomi Reice Buchwald wrote of the plaintiffs in her ruling that "the speech in which they seek to engage is protected by the First Amendment," adding "The viewpoint-based exclusion of the individual plaintiffs from that designated public forum is proscribed by the First Amendment and cannot be justified by the president's personal First Amendment interests."
Elite Daily reached out to the White House for comment, but did not hear back by the time of publication.
Of course, Teigen's reaction to the ruling is pretty much everything, taking to Twitter that same day and writing, "well well well we meet again @realDonaldTrump."
Oh, Chrissy. You slay me.
This also isn't the first time that Teigen has made sure her fans knew the date of Donald Trump's birthday, either. Back in 2016, on his actual birthday (June 14), Teigen posted a screenshot of instructions that show a user how to deactivate their Twitter account. "@realDonaldTrump happy birthday," she blunted stated, and I thought that it was one of the most legendary tweets that year — or maybe even of all time:
Teigen has been very open about how she trolls Trump (and how she's been successfully doing it for a decade), and, in a red carpet interview with USA Today, Teigen had no shame in unraveling all of her disdain for the president:
I've actually been a big Donald Trump hater [for a long time]. I've been trolling him for about 5 to 7 years now ... I've been doing this forever, and I take pride in that. If you can go back and read my old ones, I literally was like, 'You're the f*cking worst' many, many years ago.
She finished her interview in the best way possible, by saying, "I can't believe that somebody could actually do this all day every day and be president. I could go on forever. I just think he's the most vile f*cking person on this planet. If I mysteriously go missing in the next four years, that is what happened."
You tell 'em, Chrissy! And uh, happy birthday to the president, I guess.