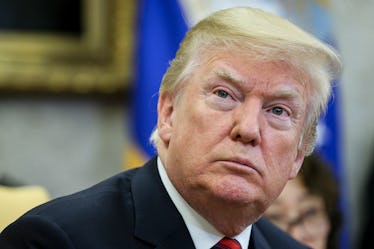 Chrissy Teigen Had The Best Response To A New Legal Ruling On Trump's Twitter
Pool/Getty Images News/Getty Images
When President Donald Trump isn't in the mood to clap back at his critics on Twitter, he'll likely ban them from his feed forever. His actions ignited a lawsuit from seven Twitter users who had been blocked by Trump's account, @realDonaldTrump, in July 2017, which argued that the president violated the First Amendment when he barred them from the social media platform. Since its filing, the lawsuit has raised many questions about what constitutes as free speech, and in the latest update, Trump blocking people on Twitter was ruled unconstitutional on Wednesday, May 23. Now that the ruling has been made, tons of social media users are rejoicing — including Chrissy Teigen, whose response is everything.
Per The New York Times, on May 23, Judge Naomi Reice Buchwald wrote of the plaintiffs in her ruling that "the speech in which they seek to engage is protected by the First Amendment" and that the commander-in-chief and Dan Scavino, the White House's social media director, "exert governmental control over certain aspects of the @realDonaldTrump account."
Buchwald continued, "The viewpoint-based exclusion of the individual plaintiffs from that designated public forum is proscribed by the First Amendment and cannot be justified by the president's personal First Amendment interests."
Elite Daily reached out to the White House for comment on the ruling, but did not hear back by the time of publication.
Teigen, who has been a vocal critic of Trump's for years, hilariously reacted to the ruling on Twitter, writing, "well well well we meet again @realDonaldTrump." Considering it's been nearly a year since Trump blocked her for trolling him, I'm guessing she's about to have a field day in his mentions.
But before we all get too excited about the ruling, a Justice Department spokesman hinted to CNBC that it may be looking to reverse Buchwald's decision. "We respectfully disagree with the court's decision and are considering our next steps." The outlet notes that the Justice Department has 60 days to appeal Buchwald's ruling, so we'll have to keep our eyes peeled on that one.
Either way, the plaintiffs are also more than satisfied with the decision. "We're pleased with the court's decision," said Jameel Jaffer, the executive director of the Knight First Amendment Institute at Columbia, which brought on the lawsuit against Trump. "The president's practice of blocking critics on Twitter is pernicious and unconstitutional, and we hope this ruling will bring it to an end."
According to NBC News, the lawsuit was filed back in July 2017 after seven people — a university professor, a surgery resident, a songwriter, a comedy writer, an author, a legal analyst, and a police officer — said their rights to free speech had been violated when they were blocked by the president after criticizing him and his policies.
For example, when Trump tweeted: "Congratulations! First new Coal Mine of Trump Era Opens in Pennsylvania" back in June, Brandon Neely responded, per Forbes: "Congrats and now black lung won't be covered under #TrumpCare" — and was banned from the president's page.
The same thing apparently happened to Rebecca Buckwater. Trump initially tweeted, "Sorry folks, but if I would have relied on the Fake News of CNN, NBC, ABC, CBS washpost or nytimes, I would have had ZERO chance winning WH." She responded by saying, "To be fair you didn't win the WH: Russia won it for you" after responding to a tweet from Trump that read," and was immediately blocked by the president.
I'm sure it's pretty hard to get the kind of flak that Trump does on the daily, and even harder to ignore it, but — in addition to the right to free speech — with him being a public official and his tweets being public information, this ruling seems... fair. I don't know if there's any way around this, but perhaps if he just turns off his push notifications, the criticism won't seem so bad. Teigen's included.