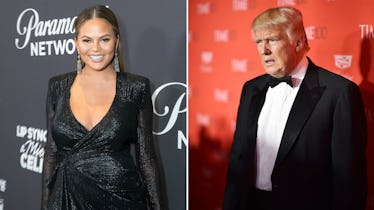 Chrissy Teigen & Donald Trump Have This One Major Person In Common & It's So Awkward
Greg Doherty & Dimitrios Kambouris/Getty Images Entertainment/Getty Images
Celebrity relationships and friendships are a rare breed. These famous faces have their lives played out in front of the masses, whether it's the good, the bad, or the straight-up shady. In Elite Daily's new series, It's Complicated, we're highlighting the biggest celebrity "feuds" that took over Hollywood and dominated our Sunday brunches for weeks on end. We'll take a deep dive into the lives and social media feeds of our favorite stars and dissect what happened in front of the camera, what went down behind the scenes, and everything you might have missed in between.
Hollywood is a wild place. Celebrities breakup, make up, and become enemies and frenemies more than I brush my teeth. Throw in one Donald Trump and the whole celebrity playing field goes crazy. I wouldn't say Trump was universally beloved by any means before he was president, but he's certainly made some famous enemies since taking office. Included on his list of haters is fan-favorite Chrissy Teigen, and she isn't afraid to let him know exactly how she feels. Weirdly enough, Chrissy Teigen and Donald Trump have one friend in common, and his name is Kanye West.
Life, ya know?
How West, Teigen, and Trump became a weird love-hate triangle isn't all that complicated when you really think about it. It just seems outrageous when you look at their names next to each other. It kind of makes me want to write a book titled Chrissy Teigen, Donald Trump, and Kanye West Walk Into A Bar, which honestly? I'd buy.
Walk with me, reader, while I break it down for you.
Chrissy And Kanye
Teigen and her husband, John Legend, have been longtime friends with Kim Kardashian and Kanye West. Kim and Chrissy are #friendship goals and have supported each other through their pregnancies, attended each other's weddings, and have shared invaluable fashion and beauty secrets with each other for years.
Famously, the two couples once went on a double date to a Waffle House in February 2015. Kim shared a picture of the gang hanging out in the booths, and West was giving his famous non-grin. Teigen spoke with ELLE about what it was like hanging out with Kanye over bacon and waffles and why he doesn't seem to smile much. She said,
Kanye is so much fun. He's a wonderful person. What I love about Kim and Kanye is that I think they save their happy moments and their smiles for themselves, rather than sharing everything with the public.
Obviously, Legend and West have the music industry in common, too, making this foursome a pretty organic group.
Trump And Chrissy
Let me be the millionth person to say Chrissy is my hero in the way she's taken on Trump. Teigen once proudly told USA Today she has openly hated Trump long before his presidential election, claiming, " [I've] actually been a big Donald Trump hater [for a long time]... I've been doing this forever, and I take pride in that."
She put the pedal to the trolling metal when he began his run for office, and she regularly bashes him on Twitter for ~*all of the things*~ all of the time.
Then, one glorious day in July 2017, Teigen achieved something it seemed she had been striving for all along. She tweeted that after "9 years of hating Donald J Trump," he finally blocked her on Twitter.
All of which kind of makes this next connection a little awkward...
Kanye And Trump
This picture makes me facepalm.
West is obviously, definitely, 100 percent known for being outspoken and saying whatever the hell he wants. In fact, you could draw a lot of parallels between him and Donald Trump. From things they've said on social media and in interviews, it's clear to see they're both obsessed with themselves, are self-proclaimed geniuses, are very, very wealthy, and act like they rule the universe. Maybe this is what drew West to the Trump Tower back in December of 2016 in the first place?
Trump and West's initial meeting came after West was reportedly hospitalized for a "psychotic breakdown" in the weeks following his wife's Paris robbery. TMZ reported West's personal physician allegedly called 911 for what was later labeled as a "psychiatric emergency." Reports say West was not violent when authorities arrived, and he was ultimately transported to Ronald Reagan UCLA Medical Center to seek treatment for exhaustion and stress.
Before his hospitalization, West announced on stage at a show in California that he didn't vote, but if he did, he would have voted for Trump. A few months later, West disappeared from Twitter.
As of April 2018, not only is West back on the popular social media platform, but he's also still supporting Trump.
In a new rant that involved a lot of things that had nothing to do with politics, West tweeted:
You don't have to agree with trump but the mob can't make me not love him. We are both dragon energy. He is my brother. I love everyone. I don't agree with everything anyone does. That's what makes us individuals. And we have the right to independent thought.
Later, he felt compelled to share a picture of his own personalized MAGA hat with Donald Trump's signature and screenshots of Trump's enthusiastic responses.
OK... but what about Chrissy?
Well, for one thing, her husband had some thoughts on West's recent actions.
John Legend tweeted a lengthy, thoughtful series of comments essentially addressing West. Among his messages, Legend wrote, "I love that great, brilliant artists have the power to imagine a better future. But artists can't be blind to the truth."
You can see Legend's whole subtweet thread in here:
Yikes. Might make for one awkward BBQ for Kim and Chrissy, eh?
After West shared a screenshot of a text conversation he had with Legend, Teigen re-shared their conversation and cracked a joke, calling it the most "complex pixel Google phone ad" she's ever seen.
Chrissy also tweeted at Kim sarcastically asking if they were still on for a double date later that week.
Kim's response was priceless.
It turns out the get-together the women were talking about ended up being a surprise baby shower for Chrissy, who shared an epic photo of herself and Kim hanging out while their husbands engaged in a serious conversation behind them.
Weirdly enough, the person I've felt most anxious for is Kim. How is she going to defend her husband and his impulsive actions and stay true to her main girl Chrissy when it comes to something as genuinely as important as the leader of our nation?
Well, if you're Kim, you just post nudes on Instagram and keep it moving.