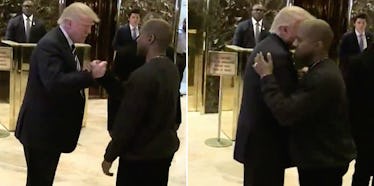 Video Of Donald Trump And Kanye West Hugging At Trump Tower Will Haunt You
TMZ
Just when we think 2016 can't get any scarier, Kanye West gets photographed walking into Trump Tower.
On Tuesday morning, the 39-year-old rapper made his way to Fifth Avenue in New York City to meet with President-elect Donald Trump.
Don't crawl on the floor and cry just yet because that's not even the worst part.
The two buttheads walked out of an elevator and exchanged a hug in what might be the most painful and traumatizing 62 seconds of your life.
Yes, the entire interaction was captured on camera.
In the clip above, watch Chip and Dale exit the elevator, walk three feet forward and stand next to each other for an uncomfortably long moment.
You can hear Donald Trump call Kanye West "a good man" and say they've been friends for a long time.
You can probably also hear the screams of 3,000 children in the background, but only if you listen carefully.
Shortly after, Donald Trump and Kanye West embrace in a man hug that will haunt you for eternity.
Thirty years from now, you'll be lying in bed half-asleep when the image of Donald's small hands gently rubbing Kanye's back appears in your dreams.
I JUST CAN'T HANDLE THE AWKWARDNESS.
WHAT IS HAPPENING? WHAT IS GOING ON?
WTFFFF?!??!?!??!?!?
AHHHHHHHHHHHHHHHHHHHHHHHHHHHHHH.
?!??!?!?!?!?!??!!?!?!?!?!
SDFKSDKEWERLEWLEWL ??!?!?!!??!!
Some people believe Kanye West was meeting to discuss a potential performance at Trump's inauguration on January 20, 2017. Others are joking he was just appointed to be part of Trump's cabinet.
No matter what the reason is, I'll never be the same after watching this clip.
Happy holidays!
Citations: Donald Trump And Kanye West (TMZ)