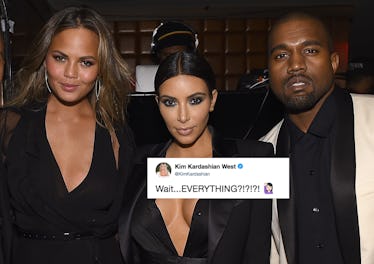 Kim Kardashian & Chrissy Teigen Trolled Kanye West On Twitter & I'm SCREAMING
Dimitrios Kambouris/Getty Images/Twitter
Kanye West is finally back on Twitter and he has some things to say. He's been tweeting up a storm, and everything he's been posting has been hella deep. Naturally, Kim Kardashian and Chrissy Teigen trolled him for it, and it's the best Twitter exchange you'll see today. Hard stop. Kim Kardashian and Chrissy Teigen's tweets about Kanye West started when West was already on a roll with his return to Twitter. On April 17, he tweeted, "Sometimes you have to get rid of everything." Kardashian quoted his tweet and joked, "Wait...EVERYTHING?!?!?!" Fans loved it. It's always a treat when Kimye acknowledges each other online.
Then, the queen of Twitter stepped in just to make sure everything's running smoothly in her kingdom. Chrissy Teigen responded to Kardashian's, "Wait...EVERYTHING?!?!?!" saying, "I have an air mattress here and I have been itching to bust it out if you need." Teigen has made trolling an art form.
But wait... there's more! Kardashian took the joke even further by quoting Teigen's tweet and saying,
Might need some more for the kids? Just not clear on what everything really means. I need clarity. Thanks for being such a good friend. Maybe John can call and inquire? But maybe he means friends too? This is confusing.
The final tweet in the thread came from Teigen, who said, "You're right. we are all screwed. I still have the bouncy house from Saturday!! It's a bed and a house in one." (Her daughter Luna's birthday party was on Saturday, April 14, in case you missed it. That's where the bouncy house Teigen is talking about comes in.)
Thank you, Kim and Chrissy, for bringing this thread into our lives.
And thank you, Kanye, for tweeting the tweet that started it all.
John Legend unfortunately didn't pipe in at all, but he got an honorable mention from Kardashian, so it's almost the same as the whole gang being together.
Kanye West's return to Twitter has fans so happy. It started on Friday, April 13, when West seemingly threw shade at Nike in a since-deleted tweet. He reportedly tweeted a photo of Nike's new monarch sneaker and captioned it, "YEEZY 700 VIBES" with a facepalm emoji. Based on that tweet, it seems like West was calling out Nike for copying his shoe design. Fans thought that was the only tweet we'd see from West for a while, and the fact that he deleted it not long after posting added some more fuel to that theory. But then, then, Kanye West went on a tweet storm that started on April 15 and still hasn't stopped.
On April 15, West tweeted a photo of his Saint Pablo merch. It was a white long-sleeve shirt with a photo of Caitlyn Jenner on the back.
He said, "My favorite Saint Pablo Tee," and the internet lost it. Was Kanye going to be back on Twitter for good?! Will he delete all of these tweets tomorrow?! Should I be screenshotting them for history books right now?!
After that Saint Pablo tee tweet, West when on a #deep Twitter rant and I would like to issue a formal thank you to Yeezus.
He also might be getting a neck tattoo for his son?? Can anyone confirm if this has already happened?!
He talked about ideas being a form of currency for creative people because like I said, this thread is #deep.
Is this "you have distracted from my creative process" part two?
Then he tweeted about fear and love, and excuse me, Kanye, but I did not ask for a therapy session today! That's every other Monday at 6.
Sending a screenshot of that "Fear often causes people to be manipulative" tweet to all of my enemies followed by a text that says "you have distracted from my creative process." (Just kidding, people don't actually have enemies. This isn't Days of Our Lives.)
His last two tweets (for now) were a sneak peek at the upcoming line of YEEZY sneakers that West calls "rat boots."
He said, "Been reworking the production shape on these #RATBOOTS for 6 months. I'm super happy with them. I'm excited about the ability to give a boot the true YEEZY shape. Feels more future." These boots are honestly dope as hell. Will spend an entire paycheck on them for sure.
West's final tweet was posted on April 17, and it perfectly rounded out the entire thread.
He said, "Trend is always late," and now I have to throw out all of the clothes I just bought. Great. Welcome back, Kanye. Kim and Chrissy will probs continue to troll you, but please don't let it distract from your creative process. Embrace the troll.