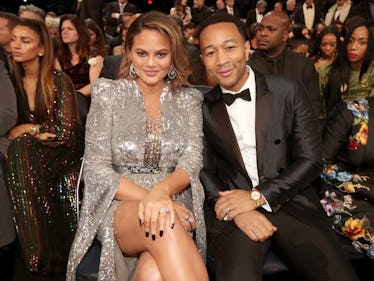 Chrissy Teigen Shared Pics Of Luna's Birthday Party & Why Wasn't I Invited?
Christopher Polk/Getty Images Entertainment/Getty Images
Latest in celebrity baby news: Chrissy Teigen and John Legend's daughter, Luna, just had a Sesame Street-themed second birthday that dreams are made of. Chrissy Teigen's photos of Luna's birthday party are major party goals, and I am kinda sad my invitation got lost in the mail. This is an appropriate party theme for an adult woman to aspire to, right?
Can you believe that Luna is two already? I know, right? I am shook too. On Saturday, April 14, Teigen and Legend threw the ultimate bash for their daughter's birthday, and Teigen documented some of it for her fans on Instagram (thanks, girl).
First Teigen posted a Boomerang of Luna in her balloon-patterned babydoll dress. She's standing next to some balloons and a stack of Pampers holding a cup and doing a little foot twist. The caption thanks Pampers for the birthday diapers and coins a new hashtag: "#llamabutt." It reads,
Thank you @pamperspure for helping celebrate our big girl's 2nd birthday! Luna's rocking her llama diaper under this birthday suit! Aaaaaannnnd Pampers made a donation to the Southeast Llama Rescue in honor of this day. Thanks for making her day so special! #llamabutt forever!
I definitely think we should make #llamabutt happen.
This is kind of just a post to thank Pampers but, thankfully for us all, gives Teigen a chance to show off Luna's Birthday getup.
Teigen's next post really delivers on giving us an inside look into Luna's birthday party, with this incredible three-tiered Sesame Street birthday cake. The top tier is Elmo, the middle is Big Bird, and the bottom tier is Cookie Monster. It's honestly one of the most impressive cakes I have ever seen (and I watch every baking show ever). Even more impressive, according to the caption, mommy and daddy helped make the cake (well, a little bit of the cake anyway). The caption reads,
!!! Thank you @duffscakemix and @tianasakona for helping us make this amazing cake for Luna! Ok so you did most the work but those eyes and half of cookie's fur is all john and I!
Yeah, you take credit for that fur and those eyes, Teigen and Legend. You earned it!
Also captured in Teigen's photo are some other Sesame Street-inspired decorations. There are some Elmo cookies chilling off to the side and an adorable classic mini Sesame Street pole with a sign that reads "Luna Street." If anyone knows where to score one of those, imma need a life-size one for my apartment. Thank you.
Is it weird to be jealous of a two-year-old's birthday party? No? That's what I thought.
Of course Teigen didn't leave her fans in the dark leading up to the party either. Before the big bash, Teigen sent out quite a few hilarious tweets about planning Luna's birthday party that were pretty relatable too.
On April 5, just a little over a week before the party, Teigen tweeted that she was in the midst of planning Luna's party even though she is so "anti-parties." She wrote,
I have officially finished my second cookbook and am wrapping up big fall project planning ohhhh it's a joy! Now I am planning a two year old's birthday party. I never thought I'd be this mom. I have always been so anti-parties they won't remember. Who am I?
Then the model did a little Twitter crowdsourcing and asked, "question about kid birthday party gift bags: am I allowed to include things that will destroy your home?"
The answer is yes, Chrissy. You can do whatever you want, queen.
If Teigen has trouble planning a party for a kid, there is little hope for the rest of us. I am just glad that all of Teigen's planning led to quite the adorable party for her daughter, though. And if anyone wants to send me that Sesame Street cake, I wouldn't say no.