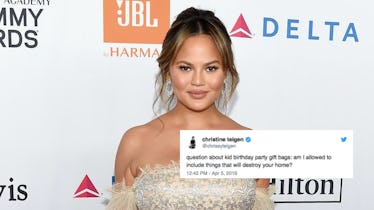 Chrissy Teigen's Tweets About Planning Luna's Birthday Party Are So, So Funny
Nicholas Hunt/Getty Images Entertainment/Getty Images
Luna Simone Stephens is all growns up, you guys! The adorable little munchkin is turning 2 on April 14 and, like, hold up for a sec because didn't she just celebrate her first birthday five minutes ago? Time really does fly, doesn't it? Anyway, even though Mama Chrissy is expecting baby number two soon and is in the middle of wrapping up her second cookbook, she's been busy crowdsourcing like a boss on social media in an effort to plan the perfect birthday celebration for her daughter. She may have once been "anti-party," but Chrissy Teigen's tweets about planning Luna's birthday party are super-relatable and so, so funny — and they prove the Lip Sync Battle star is just like every other mom who's ever questioned her own sanity while attempting to throw her kid the best damn party ever.
They say the first step to recovery is admitting you have a problem, and Chrissy rolled up on Twitter on April 5 to do just that.
"I have officially finished my second cookbook and am wrapping up big fall project planning ohhhh it's a joy!" she wrote. "Now I am planning a two year old's birthday party. I never thought I'd be this mom. I have always been so anti-parties they won't remember. Who am I?"
Um, how about the coolest, most hilarious mom ever? First Chrissy admitted that she hit up Pinterest for some fun ideas, but came away feeling depressed after finding a sad-looking Elmo made out of jellybeans and carrots.
The Cravings author is used to whipping up dishes like Lemony Arugula Spaghetti Cacio E Pepe and French Toast Casserole With Salted Frosted Flakes, so I can see why the basic concoction tossed into a round baking dish was a hard pass. She also stressed over what she was allowed to put in her kiddo's swag bags:
And despite what many of her followers thought, she was not talking about Silly String.
And now I just want to know what disastrous thing she actually was thinking about putting in those bags. Was it water balloons? Glitter? Water balloons filled with glitter, like one of Chrissy's Twitter followers suggested?
I have to admit, I kind of want to make those now. But seriously, what home-destroyer could the Twitter queen have been talking about? Was it a drum set? A pair of scissors? A pack of Sharpies? Termites? Fireworks? A ferret? Please tell me, Chrissy, I beg you! Because I could legit sit here doing this all day!
At least I know it won't be a lighter.
I do, however, like the way this guy is thinking:
Anyway, I'm not really sure who Chrissy is worried about impressing with her possibly dangerous gift bags, because I'm pretty sure Luna is already the coolest kid ever born.
Wait. Does this mean the party will have a Devil Wears Prada theme? And that maybe the item in question was a Shu Uemura eyelash curler? Fingers crossed, because that would actually be kind of dope. What's the cutoff age for copping an invite to this party, anyway? Asking for a friend.
Last year, Chrissy and husband John Legend celebrated Luna's big day not with a big blowout, but with a couple of sweet posts on Instagram.
"Happy first birthday Lu!!!! My lovebug," Teigen wrote in one of them, which featured a gorgeous black-and-white image of the trio. "You are all the best parts of the both of us and I cannot believe how much has happened in your first 12 months of life. We love you to the luna and back."
To the luna and back... so perfect! Happy second birthday, sweet girl! And if you really do hand out cult-fave eyelash curlers, just promise to save me one, OK?