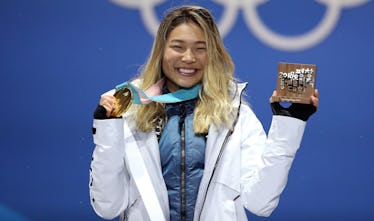 Chloe Kim's Net Worth Will Make You Want To Hit The Slopes ASAP
Chloe Kim is only 17 years old and she got a gold medal on her very first trip to the Olympics. I can't even keep a plant alive and homegirl got a gold medal on her first try. The internet couldn't handle it when Kim did a nearly perfect performance on her first run out of three at the Olympics. She scored a 93.75 on her Olympic snowboarding debut on Monday, Feb. 12, which is obviously ridiculously high score for your very first run. She's been snowboarding competitively since she was a kid, so what is Chloe Kim's net worth?
In 2017, at the age of 16, Kim was listed in Forbes' 30 Under 30 sports list. (She's also the youngest person on that list because of course.) Her current estimated net worth is $400,000, and that's all before she won her gold medal. According to Business Insider, Olympic medalists get monetary prizes. Gold medal winners get $25,000, silver medal winners get $15,000, and bronze medal winners get $10,000. Olympic gold medalists always end up getting sponsorships after their wins as well, so get your bank account ready, Chloe Kim. You're about to come into a lot of money.
Chloe Kim's tweets during the Olympics have been hilarious, but she took a moment to get serious after winning her first gold medal for snowboarding on Feb. 12.
She tweeted, "I hate crying but I'll give myself a pass for this one. Thank you everyone for the love! Stoked to bring home the gold." Kim has been hilariously casual about being at the Olympics on Twitter, though. And the internet is loving it.
She tweeted about food more than once, and now I feel a deep, personal connection to her.
She tweeted, "I'm so nervous!!!!!!!" on Feb. 11, the day before her competition, and followed that up with a hilarious tweet that read, "Oh and I also had 2 churros today and they were pretty bomb so if you ever get nervous go eat a churro." Then she talked about ice cream because she is an icon, and a committed one at that. She said, "Could be down for some ice cream rn" just hours after the churro tweets. The morning of her Olympic run on Feb. 12, she tweeted, "Wish I finished my breakfast sandwich but my stubborn self decided not to and now I'm getting hangry." Now I want ice cream, churros, and a breakfast sandwich all as one meal. Great.
Kim was a Winter Youth Olympics superstar before being old enough to qualify for the actual Olympics. She was the first American to win a gold medal at the Winter Youth Olympics when she was 17 years old and has won a bunch of national competitions like the X Games (she's won that competition four times, if we're going get into the stats real quick). At the age of 16, she was also the first female snowboarder to successfully complete a 1080 (three full rotations in the air) at an international competition, according to Time.
UGH, DADS. Based on Kim's historic Olympic run at the 2018 PyeongChang Olympics, it's safe to assume Kim's net worth is about to grow a lot more.
Erin Jackson is an inline skating world medalist and roller derby MVP. She dreamed of skating in the Olympics, but to do that, she had to get on ice. She took her first steps on a long-track course in 2016 and started training professionally in September 2017. Four months later, she qualified for the Olympic Winter Games. Check out Elite Daily Insights' video on Jackson's incredible story:
To learn more, visit teamusa.org. The Winter Olympics will air live starting February 8.