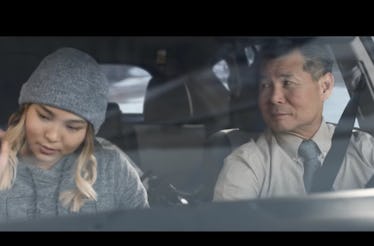 Chloe Kim's Dad Is So Supportive Of His Gold Medalist Daughter & I'm Not Crying, You Are
YouTube
I did a very small handful of things by the age of 17. I got my driver's license. I enrolled in AP English. I graduated from teenage acne to adult acne. It was a wild time. For Chloe Kim, she won her first Olympic gold medal. #Same. #Same. #Same. The young snowboarder glided her way to the top of the 2018 Winter Games after crushing the snowboarding halfpipe competition, but there's someone else America is paying closer attention to... her father. Chloe Kim's dad, Jong-Jin Kim, is the ultimate supporter of his Olympic athlete daughter and their relationship and story will wreck you in the best way possible.
You might recognize her dad from the Super Bowl Olympic commercial they did together. The commercial tells a tale about a father who worked incredibly hard, sacrificing his own time and resources to support his daughter's dreams. In real life, that's exactly how it went down. According to New York Times, Jong-Jin emigrated to Southern California from South Korea in 1982. He worked multiple minimum wage jobs to save up money so he could attend school at El Camino College, where he studied engineering would operate machinery at night.
Kim began snowboarding at the age of 4 when she and her father would go to the mountains together. Kim admits, "We both had no idea what we were doing." Long-story-short, they obviously figured it out. Competing in PyeongChang is serendipitous for Kim who has family in the area. Though all of her relatives are surely excited for her, no one is more proud than her father.
He caught the attention of many fans thanks to his enthusiastic signs and displays of support. (One popular photo shows Jong-Jin holding a laminated poster that says simply "Go Chloe!" with a giant heart on it. I die.)
Before winning the halfpipe gold, Kim spoke with Elite Daily about her relationship with her parents. She said,
My parents were very excited, as we had a pretty emotional talk about how far we've come and all the hard work that was put into it. I think it's very meaningful to them. My family is already planning the whole trip in PyeongChang, and my grandma has never seen me compete. It'll be quite the emotional journey for my whole family and hopefully everyone's really proud of me afterwards.
According to The Washington Post, on the day of her race, Jong-Jin repeatedly cheered for his daughter shouting "Imugi!" which loosely translates into a "serpent-like lesser dragon." Kim was born in the year of the dragon, and on the morning of her gold-winning run, Jong-Jin texted her, "Today is the day imugi turns to dragon."
He told NBC,
To be a dragon in Korean tradition is to wait 1,000 years. Before, [you are] a simple snake, like an anaconda. But they wait about 1,000 years, and then they turn to dragon. Go to the sky, and they make a big dragon with a gold pearl. She's got a gold pearl in her mouth. I texted her this morning that this is the time to be dragon.
Well, THAT's awesome. Why doesn't my dad call ME Dragon, huh? I want a pearl in my mouth!
People reports he also calls Kim his American Dream. So, there's that beautiful part.
Twitter users are singing Jong-Jin's praises and can't get enough of him watching his daughter snowboard. He looks joyful, happy, cold, but most of all... proud.
Of course, no one loves her dad more than Chloe herself. She told the Boston Globe, "I can't express how much I love my dad. I always get teary-eyed when I talk about him because he's so great."
Congratulations Chloe AND Jong-Jin!
Check out the entire Gen Why series and other videos on Facebook and the Bustle app across Apple TV, Roku, and Amazon Fire TV.