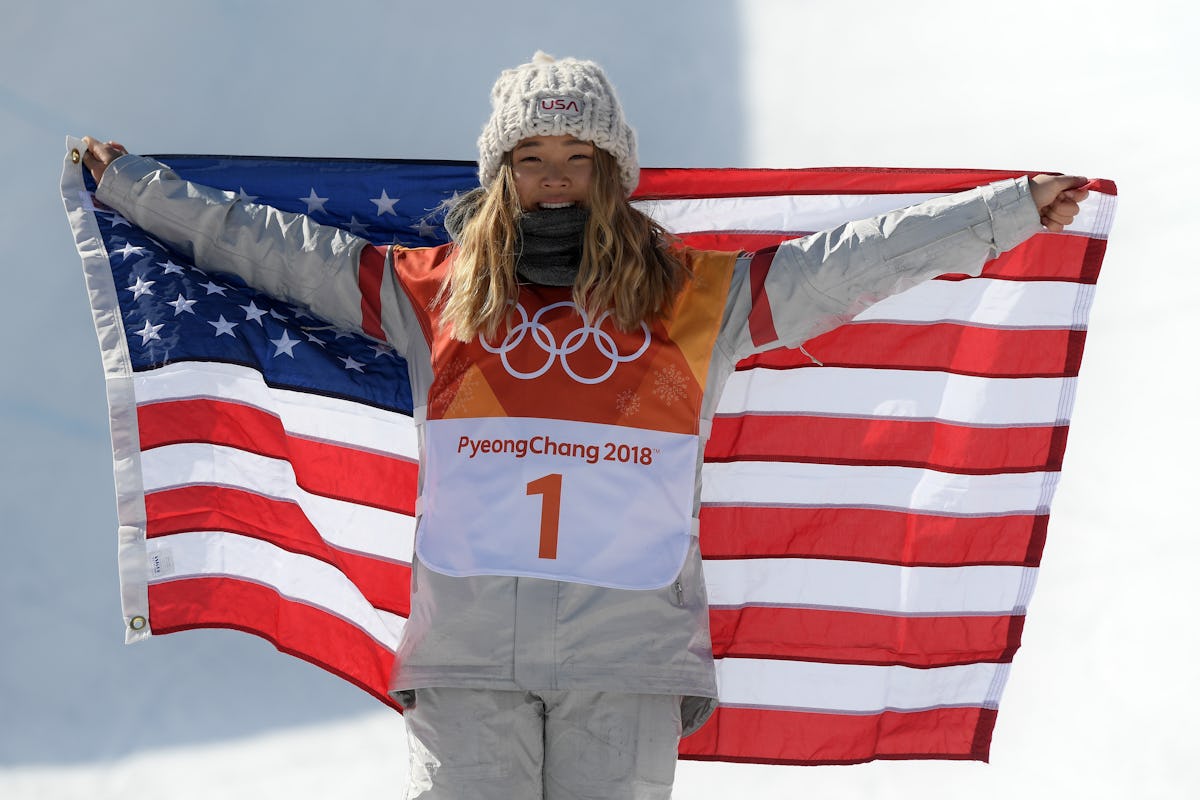 Twitter Can't Get Over Chloe Kim's Stunning Halfpipe Run, & Neither Can I
David Ramos/Getty Images Sport/Getty Images
Team USA has been killing it at the 2018 Winter Olympics in PyeongChang this far — particularly in the snowboarding department. All of the gold medals that the U.S. has won have all been in snowboarding competitions so far, and we can add another number one spot to that list. Chloe Kim's gold medal win for halfpipe is all Twitter is talking about right now, and clearly everyone is very, very impressed.
Americans are absolutely dominating the Olympic snowboarding competitions this year. So far Team USA has been awarded three gold medals — all of them coming from snowboarders. 17-year-old Red Gerard won the first U.S. gold in the men's snowboard slopestyle competition on Feb. 10, followed by 27-year-old Jamie Anderson, who took first place in the women's slopestyle competition on Feb. 11.
And on Feb. 12, 17-year-old Chloe Kim earned the U.S. its third gold after delivering a truly outstanding halfpipe run. And if you didn't know the name "Chloe Kim" prior to her gold medal win, you sure will be hearing about her from here on out. Because this run basically solidified her as an Olympic hero.
And Twitter seems to fully agree, because Chloe Kim is a serious force to be reckoned with.
Kim was the favorite to win the gold medal in the halfpipe competition at this year's Winter Games. The southern California native grew up in a small beach town outside of Los Angeles, and at just the age of 13 she was already qualified to take part in the 2014 Winter Olympics after placing in several qualifying competitions and taking home the silver medal at the X Games. But despite technically qualifying, Kim was too young to actually compete on the Olympic stage.
But man oh man was 2018 Kim's year to breakout as a literal superstar at the Winter Games in PyeongChang. If you know anything at all about Kim's career as a snowboarder thus far, you knew that she'd be good. But I don't think anybody would have predicted just how good she'd perform come the halfpipe competition. After this first place win, Kim's made history, officially becoming the youngest snowboarder ever to win a gold medal in the halfpipe competition— male OR female. Now that is something we all need to celebrate, people!
So here's exactly how it all went down.
Kim absolutely nailed her first run, earning her a score of 93.75 out of a possible 100.
That first score Kim received in her first run turned out to be enough for her to win the whole thing. But that wasn't enough for Kim. Even after clinching the gold medal, in her final run Kim decided to try and beat her own high score, and landed two back-to-back 1080s and earning an unbelievable score of 98.25.
And Kim's victory lap halfpipe run after clinching the gold medal is the best thing you'll watch all week — I guarantee you.
So major congratulations are in order for Kim, her coaching staff and her family. If there was ever time for an American athlete hero (and a female one at that), it's now. Oh, and have a mentioned that Kim is also a first generation daughter of two Korean immigrants?! Just when you thought this girl's story couldn't get any better, it does. I don't think I've been this happy for an individual athlete in a long, long time.
So once again, congratulations to Chloe Kim and the rest of the Team USA members that have placed thus far in the Olympics. I am so excited for all the young girls that I know watched Kim dominate that halfpipe tonight, and are feeling inspired to get out and do the same.