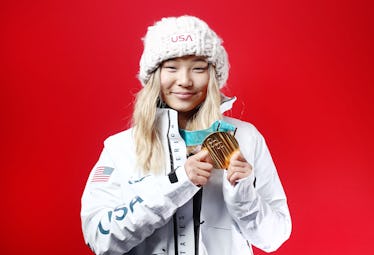 Chloe Kim Posed For Sports Illustrated With Her Dog & It's Too Cute To Handle
Marianna Massey/Getty Images Sport/Getty Images
The only thing more incredible than an Olympian is an Olympian showing love for their pet. It's like, how in the world do you even compare to someone who breaks world records by performing incredible feats of strength AND a furry animal? Spoiler alert: You can't compare, sorry. And snowboarding gold medalist Chloe Kim and her dog on the Sports Illustrated cover will make your heart burst with joy and have all your sorrows disappear simply by looking at the photo.
You may know Chloe Kim for a number of reasons: She's a gold medal winner for halfpipe at the 2018 Winter Olympics in PyeongChang who's a total breakout star. She's also the Olympian who tweeted about being hangry just moments before snowboarding down the slopes, which was actually iconic. And, in case you wanted yet another reason to be #TeamChloe, she is only 17 years old, meaning that she has done more in her short life than most people will ever do for their entire existence (try not to think about it, it will only make you sad).
Chloe Kim is on the cover of Sports Illustrated's February issue, looking like the ultimate badass snowboarder, posing with her well-deserved gold medal. But it's not Kim who's wearing the medal. Her very, very, good dog, Reese, is wearing her gold medal and now EVERYTHING IS SO WONDERFUL AND I LOVE HER EVEN MORE.
You might be like, wait, what? A fluffer wearing gold? But that's Kim's medal!
Listen up, fools. The photo is perfection and you will understand once you lay eyes on it, too:
You guys. Can you even?
Because I can't even.
Many fans on Twitter are like, YES, we love Chloe Kim! ...But also her dog:
Let's be honest, we can't even blame them. Reese is all sorts of adorable and is worthy of an SI cover, in my opinion.
Kim posted a photo of her and Reese on the cover to Instagram on Tuesday, with the caption that said, "Sports Illustrated cover! THANK YOU @sportsillustrated and @reesetheminiaussie for staying still and being a good girl 😂 So excited to share this with you guys!" Because of course she'd thank Reese for being a good girl.
Why is a love between a dog and its owner so goddamn perfect and beautiful?
Oh, and in case you didn't realize, Reese has her own Instagram, so you can follow all of her adventures with her dog mom (don't even front, you know you want to).
Here she is, looking studious AF:
Probably studying to get her masters in Barkology.
And here's Reese grabbing a very excellent stick:
Mom will be soo proud.
Reese as a tiny lil' pupper will make your eyes water:
But like, why is she so perfect?
Let's all bow down to the #queen:
All hail queen Reese.
Maybe the reason Kim is such an incredible dog mom is because she has parents who are equally supportive of their daughter. Kim spoke with Elite Daily about how meaningful her relationship is with her parents. She said,
My parents were very excited, as we had a pretty emotional talk about how far we've come and all the hard work that was put into it. I think it's very meaningful to them. My family is already planning the whole trip in PyeongChang, and my grandma has never seen me compete. It'll be quite the emotional journey for my whole family and hopefully everyone's really proud of me afterwards.
You know what they say: like mother and father, like daughter (who just happens to be a dog mom).
We can't wait to see what Chloe Kim does (or tweets) next, and it's safe to say we're just as excited to see many more very good photos of her dog, Reese.