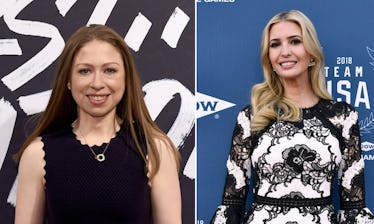 A Poll Found Chelsea Clinton Is More Popular Than Ivanka Trump, & I'm Not Shocked
ILYA S. SAVENOK/GETTY IMAGES FOR GLAMOUR // LARRY FRENCH/GETTY IMAGES FOR USOC
Step aside, Ivanka. A new poll, shared by Ipsos and the Daily Beast on June 18, found that Chelsea Clinton is more popular than Ivanka Trump — and TBH: I'm not even gonna pretend that I'm shocked. What about you guys? No? I knew it.
According to the poll, Trump is viewed favorably by just 43 percent of Americans, while Clinton holds a favorability rating of 50 percent. Trump is also viewed unfavorably by a whopping 46 percent. In comparison, Clinton has an unfavorability rating of 32 percent. The results were a part of a study that asked Americans what they think of celebrity candidates, but before we jump the gun here and rule Trump out completely, I can make a few guesses as to why she scored so low.
Trump, who is a senior adviser in the White House, has been heavily criticized for her silence on a multitude of issues, including when her father President Donald Trump pulled out of the Paris Climate agreement, banned transgender people from serving in the military, and created strict policies against immigrants and refugees, as noted by The Wrap. It's been disappointing for many, to say the least, as wishful thinkers had hoped Trump would curb some of the president's tougher, right-wing policies after he was elected into office.
Clinton, on the other hand, is a staunch advocate for popular topics like women's rights and immigration reform, and has no problem using her platform to say what's truly on her mind. For example, back in May, she called out the president for his hateful speech and the impact it has on society in an feature interview with The Guardian.
Quite a difference here, is all I'm saying.
Most recently, Trump has been criticized for stepping aside following the new "zero tolerance policy," which says that parents who are caught crossing into the U.S. from the Mexico border will be prosecuted and separated from their children. The policy has been highly criticized, with bipartisan public figures like former first lady Laura Bush calling it "cruel," and "immoral." However, Trump has been significantly silent about the ordeal. To make matters worse, on May 27, shortly after the policy went public, she obliviously tweeted a mother-and-son photo. It would have been adorable at any other time but that moment, and social media users immediately started calling her out over it.
@mobartlett19 said Trump is "so out of touch."
Yikes.
Another user wrote, "What an odd tweet in the middle of the horror going on with missing children ripped from their parents arms. How lucky you are to live in a bubble."
Clinton herself also called out Trump for her role in her father's administration in an interview with The Guardian back in May. When asked if Trump deserved sympathy for the criticism she gets, Clinton said:
She's an adult. She can make the choices for herself. I mean, she's 36. We are responsible for our choices. In 2008, I was really proud to support my mum — but I disagreed with her fundamentally on a few things, particularly her then opposition to equal-marriage rights for LGBTQ Americans. I never defended that position, because it wasn't what I believed was the right thing to do.
However, Trump has defended herself against the scrutiny she's gotten about not doing enough in Donald's administration. In September 2017, she told the Financial Times:
Some people have created unrealistic expectations of what they expect from me. That my presence in and of itself would carry so much weight with my father that he would abandon his core values and the agenda that the American people voted for when they elected him. It's not going to happen. To those critics, shy of turning my father into a liberal, I'd be a failure to them.
Well, the good thing about polls is that there's always time and opportunities to turn them around. Let's just wait and see how Trump fares in the future, OK? Clinton, too.
Disclosure: Chelsea Clinton's husband Marc Mezvinsky joined Social Capital, an investor in Bustle Digital Group, in mid 2017 and joined the Board of Bustle Digital Group in early 2018.