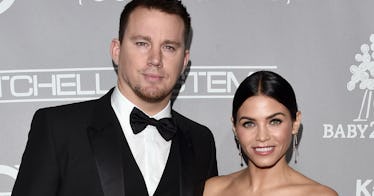 Channing Tatum Liked Jenna Dewan's Nude Magazine Cover, So They're Still In Love, Right?
Alberto E. Rodriguez/Getty Images Entertainment/Getty Images
My prayers for Jenna Dewan and Channing Tatum getting back together haven't been answered yet (boo), but there's a little bit of happy news for the couple that everyone wishes would just magically kiss and makeup. While there's no concrete evidence that these two will ever reunite, it's at least heartwarming to see that they clearly still care for each other, and the proof is in the pudding — or, ya know, it's in the fact that Channing Tatum's reaction to Jenna Dewan's nude magazine cover is overwhelmingly amazing. Either/or, really.
It came as a shock to LITERALLY EVERYONE when, on April 2, Tatum and Dewan issued a joint statement that they were breaking up, stunning fans of the couple who have been married since 2009 and who share a daughter, named Everly, together.
We have lovingly chosen to separate as a couple. We fell deeply in love so many years ago and have had a magical journey together. Absolutely nothing has changed about how much we love one another, but love is a beautiful adventure that is taking us on different paths for now ... We are still a family and will always be loving dedicated parents to Everly. We won't be commenting beyond this, and we thank you all in advance for respecting our family's privacy.
The news was, in a word, dreadful, and I wasn't sure how we were going to come back from this one. This split cut real, real deep.
But luckily, Jenna Dewan and Channing Tatum aren't the type of people to act bitter towards the ones they love, and when Harper's Bazaar published a profile of Dewan that showcases her new relationship with Tatum, she stated that they have "a new normal where there is a lot of love." They aren't falling back into each other's arms (yet?), but it seems like the two are going about things amicably, which is what you truly hope for, especially with a child involved. She said,
We're just getting used to it. We're in a very positive energy together, trying to be the best parents to Everly. We support each other.
Bravo, you two!
They've been doing a great job of showing their love and support for each other, but the most recent bit of news most definitely takes the cake for me.
On Thursday, July 26, Dewan took to Instagram and posted a photo of herself gracing the cover of Women's Health magazine, and when I say hot damn, I mean HOT DAMN. Dewan wrote,
🙈🙊✨ Thank you @WomensHealthMag for my most, shall I say, freeing shoot yet...?!! And thank you for promoting confidence...bare, stripped down, just as you are ❤️ @dennisleupold@yashuasimmons@lizplosser
Do you see her rippling abs? Do you see her toned AF arms? DO YOU SEE HOW ON FIRE THIS GIRL LOOKS?
Of course you do, because literally anyone who looks at the photo will be unlikely to tell you anything otherwise. Plenty of fans (including other celebs) were here for the photo, but the only person who really matters went ahead and gave the photo a like, too: Our man Channing.
Cheering on your ex-wife, and showing the world you care for her (and her absurdly fit bod), makes me feel like Channing is totally doing things right. I'm just going to say it: THIS is ex-husband goals.
So, while we hope and pray and wish we could see more of this:
And this:
And, quite frankly, this:
I'm happy to settle for Jenna and Channing throwing a few likes on each other's social media every now and then, too.