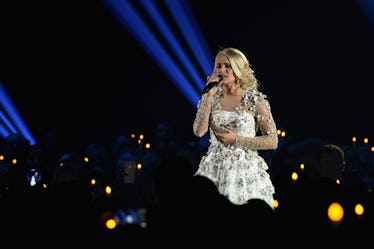 Carrie Underwood Raps In Her New Super Bowl Song & Fans Are Losing It
Rick Diamond/Getty Images Entertainment/Getty Images
Carrie Underwood is a serious force to be reckoned with guys, and she's making that crystal clear this Super Bowl Sunday. Carrie Underwood and Ludacris' "The Champion" Super Bowl song just dropped a few minutes before the kickoff for the big game, and fans are totally losing it. If you weren't already excited for the Super Bowl, this song is sure to get you pumped.
Look, I'll be honest with you guys, I don't know a ton about football, or even about Super Bowl Sunday specifically, other than that it's the perfect excuse to indulge in a lot of food and keep your butt glued to the couch for as long as humanly possible. Even so, I have to admit, hearing Carrie Underwood and Ludacris' song "The Champion" kind of got me a little bit pumped for the rest of the evening. Yay, sports!
On a slightly serious note, I really could totally see myself running on the treadmill while listening to "The Champion." It's the kind of song — or "bop," as the teens say (I think) — that makes you move to the beat, even if it's just to subtly bob your head along. The lyrics are super inspiring, too, so TBH, it's the perfect song to listen to just moments before an event as monumental as the Super Bowl.
Twitter is absolutely loving "The Champion."
Fans are positive there's no one better than Underwood to kick off the biggest night of the football season.
TBH, who needs to watch the rest of the Super Bowl? A lot of us are totally satisfied after watching Underwood slay it in that video.
Oh, and here's a ridiculously cute baby enjoying the magic of Carrie Underwood's voice. You can thank me later.
Even those of us who don't really identify as typical country music fans can't deny how catchy "The Champion" is.
Plus, with Ludacris in the song, it really is a little like traveling back in time.
Luda, long time no see (or hear, I guess?)!
As much as I'm personally low-key jamming out to this song, some people aren't really feelin' it.
I mean, I personally and shamelessly get kind of hyped listening to Carrie Underwood, but to each his own, I guess.
Do you seriously not feel a little pumped deep down when you hear the chorus to "The Champion?" The lyrics are pretty awesome:
I am invincible, unbreakable, unstoppable, unshakeable. They knock me down, I get up again, I am the champion. You're gonna know my name, you can't hurt me now, I can't feel the pain, I was made for this, yeah, I was born to win, I am the champion.
And then Luda hits us with his verse:
Born champion, Luda. The C is for the courage I possess through the drama. H is for the hurt but it's all for the honor. A is for my attitude working through the patience. Money comes and goes so the M is for motivation. Gotta stay consistent, the P is to persevere. The I is for integrity, innovative career. The O is optimistic, open and never shut, and the N is necessary 'cause I'm never giving up. See they ask me how I did it, I just did it from the heart, crushing the competition, been doing it from the start. They say that every champion is all about his principles.
Even if you're not really into the song, you have to admit, it's pretty awesome to see Carrie Underwood in the spotlight again after what she's been through in the past few months. Back in November 2017, the country singer reportedly suffered a bad fall outside her home, which left her with a broken wrist and roughly 50 stitches to her face.
People published Underwood's words to her fans following the accident. She admitted to some feelings of fear and uncertainty, but remained positive despite it all. Underwood wrote,
I honestly don't know how things are going to end up but I do know this: I am grateful. I am grateful that it wasn't much, much worse. And I am grateful for the people in my life that have been there every step of the way.
The country singer expressed her motivation to make the most of the new year ahead:
I am determined to make 2018 amazing and I want to share things with you along the way. And when I am ready to get in front of a camera, I want you all to understand why I might look a bit different. I'm hoping that, by then, the differences are minimal, but, again, I just don't know how it's all going to end up.
So far, we're lovin' every second, Carrie! We can't wait to see more of you this year.