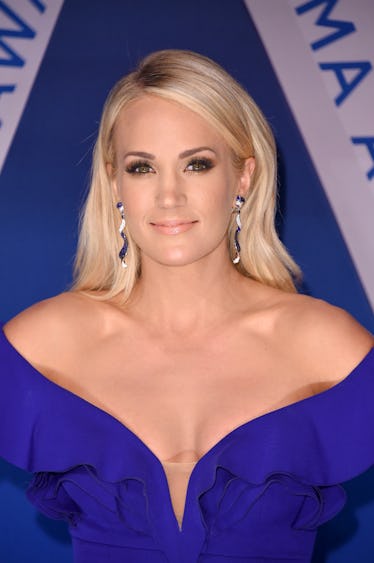 The First Photo Of Carrie Underwood After Her Accident Is Here & Fans Are So Happy
Michael Loccisano/Getty Images Entertainment/Getty Images
Carrie Underwood is OK, everyone! On New Year's Day, she announced in a letter to fans that she suffered a terrible fall outside of her home in November, which resulted in a broken wrist and up to 50 stitches in her face. She also told fans she may look different in photos due to the injuries, which caused great concern and speculation about the details. Now, the first photo of Carrie Underwood after her accident has surfaced, and she looks seriously amazing. Thank goodness!
Around the time of the fall, Underwood gave us an update on her wrist but left out the specifics surrounding her face. She posted a humorous and positive message on Twitter, saying,
I just wanted let everyone know that I'm doing great. Had surgery on my wrist yesterday & all went well...even though I'll be setting off airport metal detectors from now on...I'm so thankful for the doctors, nurses, family & friends who've been taking such great care of me.
Now, People has obtained the intimate letter Underwood penned to her fan club members and we're learning just how serious the fall really was.
Underwood wrote,
There is also another part of the story that I haven't been ready to talk about since I have still been living it and there has been much uncertainty as to how things will end up. It's crazy how a freak random accident can change your life.
In addition to breaking my wrist, I somehow managed to injure my face as well. I'll spare you the gruesome details, but when I came out of surgery the night of my fall, the doctor told [Underwood's husband] Mike that he had put between 40 and 50 stitches in.
She continued,
I honestly don't know how things are going to end up but I do know this: I am grateful. I am grateful that it wasn't much, much worse. And I am grateful for the people in my life that have been there every step of the way.
She concluded with a hopeful message about the upcoming year:
I am determined to make 2018 amazing and I want to share things with you along the way. And when I am ready to get in front of a camera, I want you all to understand why I might look a bit different. I'm hoping that, by then, the differences are minimal, but, again, I just don't know how it's all going to end up.
Well, the first photo is here, and Carrie looks great!
Adrienne Gang from the reality TV series Below Deck apparently ran into Underwood at the gym. She shared a picture with the country star on Twitter with the caption, "Just worked out next to @carrieunderwood NBD... she is adorable and so gracious... LOVE HER!"
In the pic, Underwood looks gorgeous, healthy, and just like herself.
Gang also told Twitter users Underwood looked "amazing" and she had "no clue" she was hurt.
Prior to Gang's post, Underwood did share one selfie on Instagram but kept most of her face hidden.
With any luck, we can start to expect more gorgeous photos of our favorite country girl, but more importantly, more music! According to Underwood, she is preparing to hit the studio in the upcoming weeks. Her latest album, Storyteller, came out in 2015, and fans are hungry for more.
More than anything, we're just so happy to hear (and see!) that she is feeling better. We're sending positive and healing vibes your way, Carrie!
Check out the entire Gen Why series and other videos on Facebook and the Bustle app across Apple TV, Roku, and Amazon Fire TV.