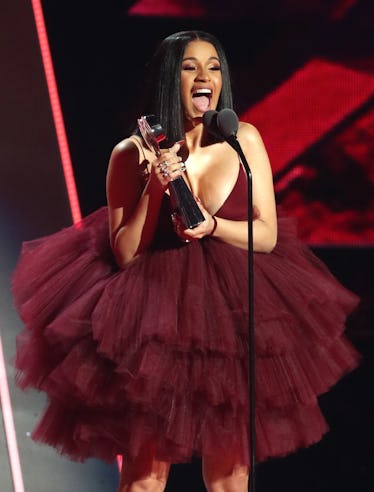 Cardi B Is Set To Perform On 'Saturday Night Live' So Soon & Honestly, Thank The Lord
Rich Polk/Getty Images Entertainment/Getty Images
Cardi B has been having a moment lately. Between the viral Instagram videos, the collab with Bruno Mars on "Finesse," the Grammy nominations for "Bodak Yellow," and her no-holds-barred, expletive-filled interviews on the red carpet, the saucy rapper has quickly become both a fan favorite and a household name in 2018. Now comes the news that Cardi B's performance on Saturday Night Live is coming, and this honestly just made my day. OK, my year. I seriously just love Cardi — you never know what the brazen star will say, so just give her the mic already, guys, because I cannot wait to find out.
Cardi shared the news on her Instagram on March 18, where she announced that she will be the show's musical guest on the April 7 episode, alongside Black Panther's Chadwick Boseman, who will be taking on host duties.
"APRIL 7th SATURDAY NIGHT LIVE!!!," she wrote in the caption. "Who finna not go to the club to watch Bardi on TV?!"
Um... me! Not that I was planning to go to the club that night anyway, but now I am setting my DVR right this second because OMG this show is going to be amaaaaazing. I'm just praying Cardi comes out for some skits because she is totally hilarious and I just know she would crush every scene.
Like, can even you imagine if they brought Tiffany Haddish back, and the two of them did a failed Lion King audition together? How dope would that be?
The internet, of course, is already blowing up over the news of Cardi's SNL appearance.
That's actually a great idea. In fact, I just decided right now that I am definitely having a viewing party or a pregame for this. I need to have witnesses around when I watch my girl kill her performance the way she did when she opened the iHeartRadio Music Awards on March 11 in that studded leather jacket, biker cap, and black tutu. Will she bring another badass medley of hits like "Bartier Cardi," "Motorsport," "No Limit," "Finesse," and "Bodak Yellow" to SNL? Who knows. But if you didn't see the epic show she put on that night, you need to rectify that situation ASAP, so check it out:
So good, right? And you know what else I'm excited to see? Whether or not Cardi is preggers! Because the rumors have been flying big time, ever since TMZ reported that Cardi's people told nightclub staffers she was expecting during Super Bowl weekend. Elite Daily reached out to her team for comment at the time, but did hear back at the time of publication. Of course, both Cardi and her fiancé Offset have denied the news, but if we've learned anything from the Kardashian-Jenner fam this year, it's that a denial ain't nothing but a river in Egypt.
Offset proposed to Cardi B back in October 2017 by getting down on one knee on stage during a concert in Philadelphia, and presenting her with an eight-carat diamond ring. Eight freaking carats! Wanna know what that looks like? Well, here you go:
Not too shabby, girl! Meanwhile, how cool would it be if Cardi plans to announce her reported pregnancy in the same way — like, when she's up on stage during Coachella or something? I would freak the eff out, you guys! What do I have to do to make that happen? Someone let me know.
In the meantime, the rumor mill keeps churning away, with fans on Twitter speculating that Cardi's about six months along and due in July.
I really, really, really hope this news turns out to be true, because if Cardi B is not just the walking definition of a cool mom who legit DGAF, then I don't know who is. Well, you know... besides Beyoncé.