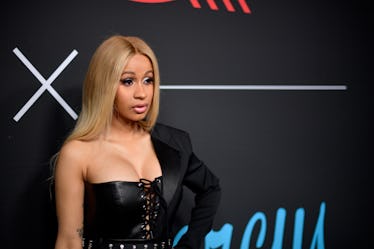 Cardi B Kicked Off The iHeart Music Awards With An Amazing Medley & Fans Love It
Matt Winkelmeyer/Getty Images Entertainment/Getty Images
Awards season ain't over yet. On Sunday March 11, the iHeartRadio music awards gave us a little more award show season action to hold onto. I don't know about you, but I definitely needed it as to not go into withdrawal without my favorite artists getting some well-deserved recognition. iHeartRadio had a lot of great performances like Ed Sheeran, but Cardi B's 2018 iHeartRadio Music Awards performance is totally badass leather-moto realness.
Cardi B opened up the whole damn show rocking a studded leather jack, a black tutu (which I need on my body right this second), and some pleather-clad backup dancers. Oh, and motorcycles! She got the party started with a medley of her up-on-your-feet hits. Her latest hit "Bartier Cardi" served as the show opener. Then she slid into her verse from "Motorsport," which also features Migos and Nicki Minaj (and explains the decor). Then the rapper went into "No Limit" with special guest G-Eazy. Obviously, she closed out with "Bodak Yellow," the tune everyone was dying to hear.
Fans were not expecting it, but were so excited to see that Cardi B was the performance chosen to kick off the iHeartRadio music awards. She really got everyone pumped for what was to come and ready to watch some more performances.
I mean, just look at this video!
Now you can understand why Twitter was so excited.
Aside from performing, Cardi B was also nominated for Hip-Hop Song of the Year for "Bodak Yellow," Best New Hip-Hop Artist, Best Lyrics, and Best Music Video. Let me just say this now: all well-deserved.
Cardi B definitely earned her "red bottoms" when she set the music world on fire with her hit single "Bodak Yellow." Cardi B became the first solo female rap artist to top the Billboard Hot 100 chart since Lauryn Hill in 1998, booting out Swift's "Look What You Made Me Do" from the top slot. I am still shook, the second female rapper to ever reach that slot. It's insane.
"Bodak Yellow" was definitely the song of summer and winter and, well, I know I will still be poorly trying to rap it in front of my bathroom mirror well into spring.
Look at Cardi B finding out she reached #1.
Cardi B also performed the hit "Finesse" at the 2018 Grammys alongside Bruno Mars, who took home seven Grammys that night, with a performance that paid tribute to In Living Color. It was announced in February that Cardi B will also be joining Mars on the last leg of his "24k Magic" tour which kicks off Sept. 7.
Due to all of the success Cardi B has gained since "I make money moves" first started gracing our speakers, fans thought she was a shoo-in to go home a winner at the 2018 Grammys. She was nominated for Best Rap Performance and Best Rap Song but unlike her Grammys performance partner, Cardi B lost out to Kendrick Lamar for his hit "Humble" and went home empty handed. Many fans felt that Cardi B deserved to win, especially because of "Bodak Yellow's" historic significance. I don't think Cardi B is going anywhere, though. So there's always next year.
She seriously deserves all the awards.
Cardi B was born in Bronx, New York and started out by owning her social media presence and posting some hilarious and often super-intimate photos and videos of her life and family. After becoming an Instagram and Vine star, the "Bodak Yellow" rapper ventured into reality queendom with a role on Love & Hip Hop: New York in 2015 for two seasons. Her unfiltered New York realnesss and firecracker personality made her an instant fan favorite.
Even with the exceptional rise to fame Cardi B has seen, the rapper still continues to keep her fans entertained on social media with some cheeky memes and fierce videos. My personal favorite Instagram video is when Cardi B happened upon her Cosmopolitan magazine cover on the stand and decided to compliment herself and then stopped by to say some kind words to her shelf neighbors.
I laugh every time I watch it. Here. Watch it. Love it.
Not only has Cardi B made history with her chart-topping hit, but she is so unapologetically herself. She's not shy about loving herself, being sexy, or throwing shade, and it's the best thing about her. Cardi B is the definition of owning it. We saw it on Love & Hip Hop: New York, and we continue to see it in her songs and performances. Cardi B, you slay. With that said, I only have one more question for everyone, "'Bout who ain't fond of [her]?"