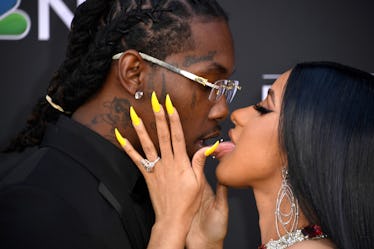 I'm Living For How Extra Cardi B & Offset's Body Language At The 2019 BBMAs Was
Frazer Harrison/Getty Images Entertainment/Getty Images
Few couples in Hollywood are as eclectic, charming, and straight-up confusing as Cardi B and Offset. Seriously, the two have gone through more ups and downs than Ross and Rachel from Friends, but their relationship is definitely more interesting than any sitcom on Netflix. If you take a look at Cardi B and Offset's body language at the 2019 Billboard Music Awards, it's clear that they've got nothing but love and super hot chemistry between them.
Looking at these two on the red carpet, no one would ever guess that they were just in the middle of a very public breakup in December 2018. They've clearly come a long way, and the married sweethearts don't appear to be too bogged down by any past drama. Good for them! Cardi B and Offset welcomed their first daughter together, Kulture, in July 2018, and they make a seriously adorable family.
So, when the love birds took the red carpet by storm on Wednesday, May 1, it was no surprise that they also brought the heat. The two were holding each other, smiling, gazing lovingly at one another, and even touching their tongues together.... as you do. They clearly know what the people want! But what do two relationship experts have to say about their red-carpet antics?
For starters, it's important to remember that all of these photos are on the red carpet, which means they're not exactly candid. "We have to remember that both Cardi B and Offset are highly skilled, seasoned, and well-trained performers!" Denise M. Dudley, behavioral psychologist, tells Elite Daily. "So a lot of what they're doing in these photos is carefully staged."
Staged or not, these photos still say a lot about this fun couple. Here's what experts had to say.