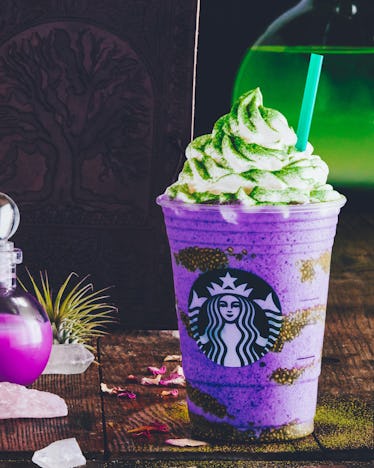 Starbucks' Witch's Brew Frappuccino Could Be Gone After Halloween, So Sip One ASAP
STARBUCKS
The moment has finally come when one of Starbucks' most highly-anticipated seasonal sips is making an appearance. And no, I'm not taking about the joint's infamous Pumpkin Spice Latte. With Halloween just days away, Starbucks is giving our tastebuds the ghoulish treatment with the launch of its Witch's Brew Frappuccino. You might have initially been put off by the refreshment's nightmarish appearance, but after trying it, I bet you're wondering: Can you order Starbucks' Witch's Brew Frappuccino after Halloween? There's a catch, so don't sleep on getting this chilling fix.
Per Starbucks' press release, the franchise's scariest edition swooped into stores on Oct. 25 and promised to pique your curiosity with limited-edition ingredients list including a "pinch of toad's breath, a dash of bat warts, and a sprinkle of lizard scale." With such a blood-curdling recipe, I wouldn't blame you for assuming that this brew would disappear from Starbucks' menu at the stroke of midnight on Oct. 31.
However, surprisingly enough, the coffee gods, aka Starbucks, claim that the drink will be sold "for a limited time while supplies last," which means that there's actually a chance that you could be drinking these scary sips after the scariest night of the year. On the other hand, there's also the very real risk that Starbucks could sell out of its Witch's Brew Frappuccino before Wednesday, Oct. 31. After all, ingredients like toad's breath and bat warts don't just grow on trees, people. The point is, it's totally up in the air whether or not the Witch's Brew Frappuccino will see the light of day after Halloween, so I'd head to your nearest Starbucks and give one a try (without being deterred by the stomach-turning ingredients list) as soon as possible.
While the Witch's Brew Frappuccino doesn't sound like one of the most appealing sips I've ever ordered at Sbux, I've learned from last year's Zombie Frappuccino that it's better not to judge a book by its cover, or rather a drink by its color, when it comes to the coffee company's Halloween creations. I'll admit I had my doubts when faced with the Zombie Frappuccino's "ghastly" green hue and Pepto Bismol-colored layer of creepy crawly brains, aka whipped cream, that made the refreshment look unappetizing at best, and nightmarish at worst. However, one sip in, and I completely forgot all about the drink's terrifying appearance. The flavor of the drink paid homage to that most classic of fall flavors — the caramel apple — and it was a refreshing departure from all the cloves and cinnamon overload that I've come to expect from the fall season.
So I went into my Witch's Brew Frapp experience with an open mind, and was pleased to discover that toad's breath translates to orange crème while green "bat warts" and "lizard scale" powder are none other than chia seeds and vanilla whipped cream. Turns out, it's all treat and no trick, and without all the caffeine that you'll normally find in a Starbucks refreshment, you can double fist these witchy bad boys without fearing any sleepless nights. Plus, the festive Mummy Cake Pop and the brand new Raccoon Sugar Cookie are also part of the whole "available while supplies last" situation, according to the Starbucks press release, so I'd grab a few of these sweet concoctions while you're on your drinks run.