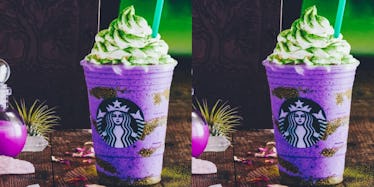 Starbucks' Witch's Brew Frappuccino Won't Be Here For Long, So Get This Spooky Sip Now
Starbucks
You guys, if you haven't already heard about Starbucks' newest Halloween drink, allow me to introduce you. Starbucks' Witch's Brew Frappuccino is a blend of purple and green goodness that will put a spell on you. Well, not literally, but I'm going with it. We are now within one week of Halloween (!!!) and this spooktacular drink is now available for you to sip on. So, how long will Starbucks' Witch's Brew Frappuccino be available? You better order up soon. Because just like the ghosts and goblins of Halloween, this scary sweet drink might just vanish right before your eyes.
Starting on Thursday, Oct. 25, Starbucks revealed the Witch's Brew Frappuccino at locations nationwide. I know, you might feel sort of silly asking the barista for a "Witch's Brew Frappuccino," but trust me — it's worth it. Your friendly barista will know exactly what you are talking about. According to Starbucks, the Witch's Brew Frappuccino won't be around for long. The limited edition drink is making a rare appearance on Starbucks store menu's for a short period of time, while supplies last. Elite Daily reached out to Starbucks to find out exactly how long the frightening and frozen treat will be around, but no exact end date was provided.
Halloween is on Wednesday, Oct. 31, so I'd like to think the Witch's Brew Frappuccino will at least stick around until the end of Halloween. At least, I'm hoping so. I'll be dressing up as a skeleton this year. Yes, I know, it's not a witch, but I think my costume is spooky enough that I can still walk around while sipping on the Witch's Brew Frappuccino, right? I won't be waiting until Halloween night to get my first taste of this treat, though. Sadly, there is no Starbucks Happy Hour this week (for those who don't know, it's typically a weekly event). I'll still be stopping by Starbucks later today to give this Halloween drink a try.
So, what is Starbucks' Witch's Brew Frappuccino? It's a secret potion made from magic beans (aka coffee beans) that is the "blend of 'toad's breath,' 'bat warts,' and 'lizard scales,'" according to Starbucks. Are you intrigued yet? OK, so it doesn't *really* taste like a combination of those three things, but it does sound tasty. The purple coloring you see in the Witch's Brew Frappuccino is a swirl of orange crème blended with chia seeds, and topped with vanilla whipped cream and a dusting of green powder for an extra spooky surprise.
In years past, Starbucks has been known to release a Halloween-themed drink. You might remember last year's Zombie Frappuccino. The Witch's Brew Frappuccino has big shoes to fill, because the Zombie Frappuccino was absolutely delicious (it tasted like caramel apples — yum) and the green drink had blood-red streaks on the inside of cup for a little something extra.
So, on your next trip to Starbucks, take a pass on your usual PSL order and opt for the Witch's Brew Frappuccino. The PSL is the gold standard of fall Starbucks drinks, but it's time to give something new a try. The limited-edition Witch's Brew Frappuccino is available now, but soon the brew will be hopping on its broomstick and taking flight. Catch this one while you still can.