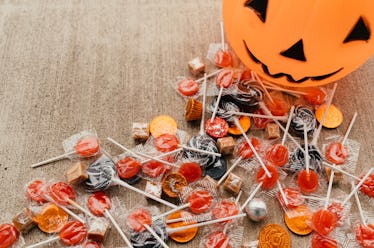 Can You Order Halloween Candy On Seamless? Here's The Lowdown For Your Girls' Night In
There's so much you could do on Halloween night. You can go out drinking with your girls, find a haunted house, watch scary movies, or hand out candy to trick-or-treaters. There are so many options, but you're probably waiting for everyone else to plan something for you to do. If everyone else is holding off too, you could end up with no Halloween plans at all. Don't worry; there are plenty of things you can do last-minute like a girls' night in at home, but can you order Halloween candy on Seamless last-minute?
You can't have Halloween without the candy, right? So, what do you do if you've procrastinated on the most important essential of the holiday and you're without sweets on All Hallows' Eve? Well as of right now, Seamless is not offering Halloween candy delivery (though you can probably by candy from your local grocery store, if it's on Seamless.. That's the scariest thing I've heard all month, but no need to run off screaming. There are plenty of delivery services that can help you and you squad out when you're in a pinch.
Postmates Is Here To Save Halloween
In fact, our trusty friend Postmates will totally deliver bags of Halloween candy to your door. You just need to find your local drug store on the app like a Duane Reade or Walgreens, and order away! There's even a section on there just for Halloween where you can find any number of Halloween items to order. Not only can you find bags of candy, but decorations and even costumes.
This is a lazy girl's dream come true. You can throw a last-minute Halloween party at home with just your fingertips. You want to keep it casual this year anyway since Halloween is on a Tuesday night. Most of your actual partying will be done on the weekend before, so Halloween night is just for relaxing. You can find a costume in your closet, throw on some scary movie from any of the streaming services, and with your candy on the way via Postmates you're all set.
What Can You Get With Other Delivery Services This Halloween?
We've reached out to the customer support at both Seamless and Grubhub to see if they'll be jumping on the Halloween train, but they both said at this time they don't any plans of doing any sort of Halloween candy delivery. Bummer! Though on Halloween night you can still find something sweet from any local restaurant with a dessert menu on one of these apps. So, they haven't let us down completely.
Last year, UberEATS was offering up some last-minute candy and costume delivery in Australia for the epic procrastinator. I wonder if this year UberEATS in the US will jump on board and offer up something similar. So far no plans have been announced, but we can all dream.
Everything You Need For A Last-Minute Halloween Party
Your best bet for Halloween candy delivery this year is with Postmates. Your girls' night in isn't SOL. You can totally get your chocolate fix with your squad after all. Other than candy, what do you need for a super chill night in? Well, a scary movie is a must like Hocus Pocus or The Addams Family. You can order something savory to eat from any of the food delivery apps. You can even have fun with your crew decorating pizzas for Halloween. If you're looking for a little witches brew, you can order up some wine and spirits from Saucey. Then, maybe play some Halloween party games.
Technology is great with how much you can get nowadays with just your phone. No one will ever know you threw together this Halloween girls' night in totally last-minute. Honestly, we could blame our phones for why we're such procrastinators, but then again with an epic Halloween party, procrastination looks good on us and we're not mad.