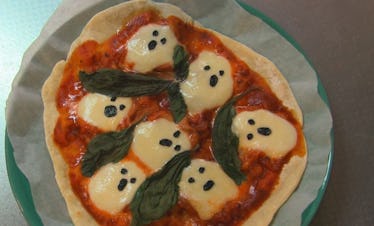 8 Halloween-Inspired Pizzas That Pair Perfectly With Your Friday Wine Night
Halloween is on a Tuesday this year, so we're taking every day of the weekend before to celebrate the holiday in some way. That means the Friday wine night you usually have with your besties can be transformed into a Halloween-worthy, spooktacular affair. With a few minor adjustments, your wine night will now be a fright night. You don't have to get too crazy and over-the-top with the Halloween theme — a festive movie marathon and some super delicious Halloween pizza recipes will do the trick to get you in the spirit.
With a simple nod to the holiday (and let's be honest, whenever pizza is involved), your friends will be on board. Pizza, wine, and a fun Halloween classic like Hocus Pocus or Scream sounds like an amazing time with your squad, amiright? You and your friends can even do all of the decorating yourselves, from the decor, to these eight Halloween pizza tutorials. They're simple and fun, so everyone can lend a helping hand. Don't forget to Instagram the outcome, because these pizzas are just so cute you'll want to share your finished masterpieces. So, creep it real with your girls and bring on the boos, because it's Halloween and we're going to eat, drink, and be scary.