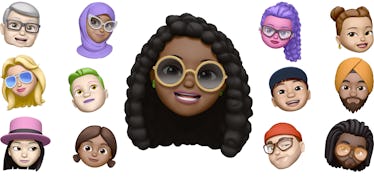 If You Want To Have All The Memoji Fun On iOS 12, You'll Need This iPhone
There always seem to be so many tempting benefits to buying a new phone: extended battery life, higher camera quality, and maximized durability are just a few factors that always seem to improve with each new generation of smartphones. But certain features, like Memoji, are only available to specific newer models, and I hate to say it, but it's really making me want to upgrade to yet another new phone. So, you might be wondering, "Can you make a Memoji with the iPhone 8?" Unfortunately, you'll need a certain (higher-quality) camera to get started on it.
On Wednesday, Sept. 12, Apple announced the launch of the new iOS 12, after the concept was previously announced back in June 2018. But aside from offering group FaceTime and Screen Time, the tech giant introduced the glorious entertainment source that is Memoji. The only downside of Memoji is that only phones that use the TrueDepth camera system can get in on the fun. In other words, if your iPhone is older than the iPhone X, XS, XS Max, or XR — like an iPhone 8 — you won't be able to make your own Memoji. You'll be able to receive Memoji videos from your pals with the newer phones, but, sadly, you won't be able to make one for yourself. *Cue sad violin music.*
OK. I don't know about you, but with my iPhone 6 (vintage, I know), I kind of feel like that one kid who doesn't have anyone to sit with in the cafeteria. I feel so, so left out of the entire Memoji experience with my older iPhone, and if one more person tells me, "It's OK," because "at least [I] can still receive Memoji videos," I will go totally and utterly bonkers. It's not the same if you can't make a Memoji on your own, you guys. Whatever.
In case you don't already know what Memojis are, they're probably one of the greatest revelations of 2018. Essentially, the Memoji is a personified talk-as-you-talk, do-as-you-do emoji. They reflect the appearance of the creator, and they can be completely customized to look as much like you as possible. Aside from changing hair, eye, and skin color, you can add freckles, snag a pair of glasses, wear a hat, or even change the texture of your hair. You can record of yourself talking as the Memoji and send it to all your friends, and you can even FaceTime people as your Memoji. Crazy, right? It's a weird, awesome time to be alive, people.
If Memoji sounds familiar to you, you're probably aware of the other emoji feature that only works with phone models iPhone X or later: Animoji. Animoji was introduced in November 2017 when the first iPhone X became available, and it's the same concept as Memoji, but the image is that of the emoji of your choice, like a koala, ghost, or dinosaur. It's super fun — thanks to the super-creative Animoji karaoke — and it's almost worth the price of a phone upgrade itself.
Anyway, both of these features are so, so cool. Seriously, Memoji is a fun time for everyone... everyone who can use it, that is. All pre-X iPhones are — unfortunately — exempt from the glorious feature, and if you couldn't tell, I'm kind of salty about it. So, if you really want that personalized Memoji but don't have a TrueDepth camera, maybe it's time for an upgrade. It seems like that's the only way to fix this crisis, and if you want to buy me one while you're at it, I wouldn't be mad about it.