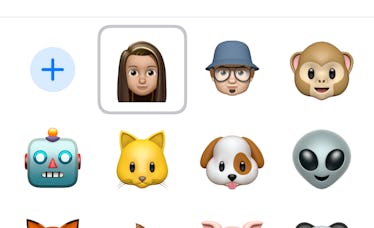 Apple's New Memoji Feature Is Just Another Reason Why You Need To Upgrade ASAP
Courtesy of Tina Kolokathis
Apple's keynote presentation on Wednesday, Sept. 12 included a ton of announcements, including the release of iOS 12 (finally). The mobile operating system was first announced in June 2018 at the Worldwide Developers Conference, but it's been in beta until now. The new features of iOS 12 include group FaceTime, a feature called Screen Time (it lets you know how often you use certain apps), and my favorite — Memoji. I got a chance to look at the new iPhones before their release and make one of my own Memojis. Here's how to make a Memoji on iOS 12.
First, let's get one thing straight. Memoji is only available to make if you have the TrueDepth camera system. That means your older iPhone won't make the cut – you'll be able to receive Memoji in the form of a video, but you won't be able to make your own. The iPhones that can make Memoji are the iPhone X, XS, XS Max, and XR.
Now that we've got that out of the way, let's make a Memoji!
1. Open up a new message and click on the Animoji logo.
When you start a new message iOS 12, you'll see a slightly different keyboard with icons across the top. Just tap the monkey — aka the Animoji app — to start making your Memoji.
2. Click the + button next to your current Animoji to make your own Memoji.
When you open up Animoji in your messages, you'll see any Memoji you've already made, plus the Animoji that have already been available, like the dog, alien, fox, and pig. Click the + button and a Memoji maker will open up.
3. Choose the features that best represent you.
Memoji has SO many options. You can change your skin tone, hair color (it even includes highlights, which I added to mine), headwear, eyewear, and more. There are seriously endless possibilities.
4. Hit Done and your Memoji will be saved!
Once you hit done, you'll be able to see your Memoji in the Animoji app. When you smile, it smiles. When you stick your tongue out, it sticks its tongue out. It's kind of amazing. A little animated version of you! Take pictures with it, send videos… it's all possible.
You can even take a photo with your Memoji overlayed on your IRL face. All you have to do is click the camera button in any iMessage, click the star icon in the bottom left corner, hit the Animoji icon, and choose your Memoji! Same process works while you're using FaceTime, which is kind of perfect if you're getting an unexpected call and don't feel like showing face. Here's a selfie I took with my own Memoji (before I put my highlights in, because I totally didn't know that was a thing at first):
Like I mentioned earlier, the ability to make your own Memoji comes with the newer batch of iPhones. If you don't already have plans to get one, you still have some time before they're released. The iPhone XS and XS Max were available for preorder on Sept. 14 and will be in stores on Sept. 21. The iPhone XR will take a little more time — preorder starts Oct. 19 for an Oct. 26 release date. My Memoji and I are already waiting patiently for our order.