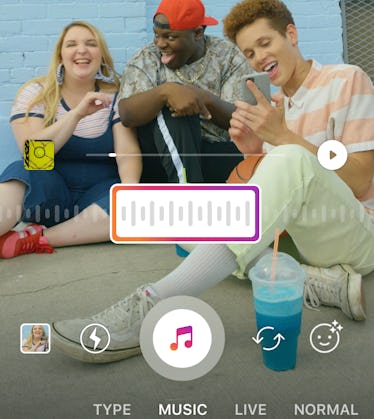 Your Boomerangs Are About To Get So Much Better With IG's New Music Feature
If you haven't yet heard, Instagram announced an awesome new feature for Instagram Story on Thursday, June 28. With the latest IG update, you can now add music to the photos and videos you post to your Story. I know, this super cool news that you can up your Story game with a personalized soundtrack is very exciting, but you might have a few more questions about what all you can do with music in Stories. So, can you add music to Boomerangs on Instagram Stories?
You probably didn't think it could get any better than having the ability to up your IG Story game with music-filled photos and videos. Well, think again, because you can also add music to Boomerangs in your Story to create what might be the coolest videos that have ever existed. As someone who is totally addicted to creating Boomerang videos, I am beyond pumped to hear this good news.
If you're not familiar with what this latest update is, let me fill you in. In an update on June 28, Instagram revealed that users can now add music to the photos and videos they post to their Story. When you update your Instagram app to version 51, you can access the "Music" sticker from the sticker tray in your IG camera. Then, you're ready to add your favorite tunes to all of your Instagram Story photos and videos.
Of course, the first thought that came to my mind was whether or not the music feature in Stories would work with Boomerang (aka my go-to Insta feature). According to Instagram, the new music feature works with other camera features, including: Boomerang, Rewind, Stop-Motion, Superzoom, Focus, and Hands-Free. It's good news that this new music feature is so versatile, because Instagram also announced in its blog post that nearly 400 million people a day use Instagram Stories — so you better keep yours fresh!
It's so easy to do with the new music feature, too. Once your app is running on Instagram version 51, you can get to work creating all the tune-filled Boomerang videos you want. The feature also works with regular video and photo, too, so your options for upping your Story game are truly endless. To get started, choose the video or photo you want to send to the next level with a little musical accompaniment. Then, pick your song from the Music sticker in the sticker tray, rewind and fast-forward until you've selected the your favorite part of the song. Finally, post your masterpiece to your Story.
You can also send your music creations in Story via Direct Message, but your followers will miss out on your expert music choices when you do that. What's even cooler for your followers when you post your vids to your Story is that a sticker with information about the album, song, and artist shows up in your Story when they watch it. This way, they can keep track of all the on-point jams you have coming their way.
Have you gone straight to your Instagram app after learning this amazing news to get started on your own music-filled Stories only to find that you can't see the update? Don't freak out, because you might just need to force-quit or re-download your Instagram app. I know, that sounds pretty extreme, but it might just be the thing you need to do in order to see the new music feature on your app. If that doesn't work, you may have to resort to good ol' patience. The music feature rolled out to select countries — including the United States and the United Kingdom — on Thursday, June 28, and sometimes, large rollouts like this one take longer than normal to reach all the users.
Don't be too bummed if you don't have it right away, though, because it'll be totally worth it when you can create all the musical Boomerangs of your dreams.