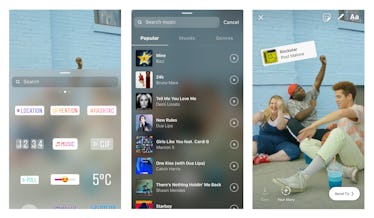 You Can Finally Add Music To Your Instagram Story, So Get Ready To Set The Mood
Instagram
Instagram is singing a new tune — and soon, you will be too. The social media app is announcing a first-of-its-kind feature that allows users to add music to their Instagram Stories. The groundbreaking new function is available as of Thursday, June 28 in select countries, and it's sure to liven up your next Instagram Story with a catchy jingle. Get ready to set the mood, because adding music to your Instagram Story is finally possible.
More than 400 million people use Stories on a daily basis, according to Instagram. Thanks to a boost in users, the social media app is unleashing a fun, new way to engage your friends and help you produce your own creative content. Whether you are uploading a photo or video to your Instagram story, you can set the tone by adding music from Instagram's growing library of popular songs. Instagram is revving up it's collection of music by the day. With thousands of tunes to choose from already, there is no shortage of songs to pick from. Now, you can add your favorite song to your Instagram Story any time you want. This is huge news.
Currently, the musical functionality is only available in select countries such as the United States, United Kingdom, Australia, New Zealand, France, Germany, and Sweden. Instagram hopes to bring the new feature to additional countries in the future.
Adding music to your Instagram Story could not be easier. In fact, it works the same way as adding a GIF or hashtag to your Story. To add a song to your Story, navigate to the sticker menu, and you'll find one with a music icon. Click on that to find the song of your choice, and it to your Story. That's really all there is to it.
You can even add music to a video before you take the video. So, if you are setting up your phone for the perfect shot, you can really set the mood by selecting the song you want to play (including only playing a specific part from that song). Pretty rad, right? It's like being able to shoot and produce your very own mini movie. Android users take note: This feature is only available on iOS for the time being, but it won't be too long before you are able to join in on the fun.
When a follower views your Story, they will be able to hear the song playing while the look at your photo or watch your video. A sticker with the song title and artists name will appear on the screen, so everyone can get in on your jams.
If you live in one of those countries listed above, but don't see the music sticker, you may not be able to add any sweet tunes to your Instagram Story just yet. These new feature rollouts can take some time, although they seem to be available faster than ever before. So, if you do not see the new feature, check to make sure your app is running the latest version called Instagram 51. If not, check out the App Store on your mobile device and download the most recent rendition. You will be dancing to the beat in no time.
On Tuesday, June 26, Instagram launched three other new features that are currently available on the app — and it doesn't appear they will be slowing down anytime soon. Instagram rolled out Video Chat in Instagram Direct, Camera Effects designed by celebrities (like Ariana Grande), as well as Topic Channels to help you get the type of personalized content you want to see on the Explore page.