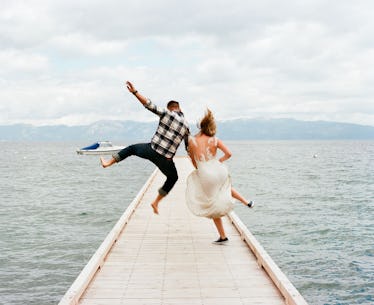 6 Stories Of Lasting College Romances That Will Make You Believe In Love Again
College relationships can honestly teach you so much about yourself and what you value in a partner. If you've ever found yourself asking if college relationships can last past graduation, you're definitely not alone. The truth is, according to Facebook Data Sciences, that some of them do. In fact, Facebook Data Sciences reports that 28 percent of married college graduates attended the same school. So, yeah, college sweetheart relationships can definitely work out!
Going through a breakup in college or seeing your friends' relationships end can definitely make even the most romantic person feel jaded about finding love in college. However, just remember that some couples do make it. These partnerships can start off like any other college courtship, but what makes them different from the relationships that fade out? It's different for everyone. When you think about it, dating in college can be a serious challenge! You already have a lot on your plate when it comes to navigating classes, a job, a social life, organizations and anything else life throws at you.
Elite Daily spoke to six people whose relationships have made it through college, graduation, and beyond. If you're feeling discouraged about love on campus, these stories might help lift your spirits. The following stories also provide insight into how these couples' specific commitments have worked. A common thread throughout each story was the mutual support of each partner through whatever life throws their way.