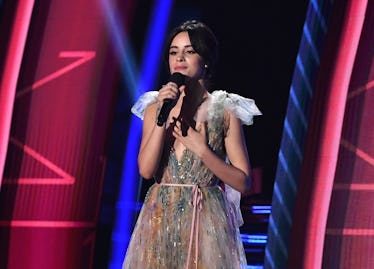 Camila Cabello Dropped Her New Album & This One Song Will Make You Sob
Kevin Winter/Getty Images Entertainment/Getty Images
Camila Cabello's solo debut is finally here as her first album, entitled Camila, dropped on Friday, Jan. 12. The album has 10 tracks, but there's one song in particular that seems to be striking a chord. Her song "Something's Gotta Give" is a soft-hearted track that details the struggles of a relationship that's just on the verge of ending, and, TBH, it's a song that nearly everyone who's been through heartbreak can relate to. Camilla Cabello's "Something's Gotta Give" lyrics are hitting us all in the feels, and hitting us hard.
2017 was undoubtedly a major year for Cabello. Her song "Havana" featuring Young Thug made history as it topped Billboard's Pop Songs radio airplay chart for seven weeks straight — meaning it's the longest running song by a solo female in a lead role in almost five years. And, after Camilla Cabello left Fifth Harmony back in 2016, it's exciting to finally see her very first album since that departure. And boy, did she deliver. The first half of the album is what we'd expect: pop-driven, easy, and fun. But the second half of the album is where the ballads take a turn into a seemingly more personal and heartfelt place, which is exactly where the song "Something's Gotta Give" comes in.
If you listen to the song, you'll hear just how painfully accurate the lyrics are, and how much they actually resonate with anyone who's ever argued with someone they've been in a relationship with (aka nearly everyone), and how sad it is when that relationship dissolves right in front of you.
Some of the lyrics go:
Loving you, I thought I'd get no higher
Your November rain could set nights on fire, nights on fire
But we could only burn so long
Counterfeit emotions only run skin deep
Know you're lying when you're lying next to me, next to me
How did we get so far gone?
I should know by now, you should know by now
We should know by now
Something's gotta give, something's gotta break
But all I do is give and all you do is take
Something's gotta change, but I know it won't
No reason to stay is a good reason to go
Is a good reason to go
I have never heard a silence quite so loud
I walk in the room and you don't make a sound, make a sound
You're good at making me feel small
If it doesn't hurt me, why do I still cry?
If it didn't kill me, then I'm half alive
Wow, those lyrics are so intense (and so relatable).
Listen for yourself below to hear just how heartbreaking but beautiful this track is:
So, while there are definitely some sad and somber songs on this album, there's also a share of lighter, airier ones, too — meaning Cabello is totally versatile and is basically crushing life right now.
In an interview with the The New York Times, Cabello said she realized leaving Fifth Harmony and choosing a solo career was difficult, but ultimately the right thing to do. She said,
I was just curious and I wanted to learn and I saw all these people around me making music, writing songs and being so free, ... I just wanted to do that and it did not work. It became clear that it was not possible to do solo stuff and be in the group at the same time ... if anyone wants to explore their individuality, it's not right for people to tell you no.
Honestly? Camila is proof that Cabello has certainly made the right choice.