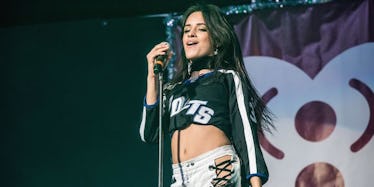 Camila Cabello's Cryptic Tweet Has Fans Thinking She's Working On Solo Music
REX/Shutterstock
It was only last month when Camila Cabello quit Fifth Harmony, leaving countless Harmonizers across the world bawling into their pillows with broken hearts.
It's as if her departure from the elite girl band felt like a personal breakup we were all going through, and it totally sucked.
Fifth Harmony (or shall I now say "Fourth Harmony") members Ally Brooke, Normani Kordei, Dinah Jane and Lauren Jauregui took to Instagram to share a message with the fandom.
To refresh your memory, the post read,
After 4 and a half years of being together, we have been informed via her representatives that Camila has decided to leave Fifth Harmony. We wish her well. You Harmonizers have been there with us since the beginning, you've supported us, you've rejoiced and cried with us, you've grown with us, and with your love and support, we will continue on. That being said, we are excited to announce that we will be moving forward with the four of us — Ally Brooke, Normani Kordei, Dinah Jane and Lauren Jauregui for our fans. We are four strong, committed women who will continue with Fifth Harmony as well as our solo endeavors.
Let's just say the drama escalated a tad quickly when Camila Cabello responded to Fifth Harmony's post on her leaving the group, revealing she was "shocked" the statement was released "without my knowing."
And NOW, Camila recently took to Twitter to post a v. cryptic tweet...
HOLD UP... WHAT DOES THIS MEAN, CAMILA?! WHY ARE YOU BEING SO CRYPTIC WITH THE EMOJIS, GIRL?!
Fans are super suspicious the 19-year-old singer is already whipping up some solo music like a boss.
A couple of excited fans even involved Ariana Grande in this possible lyric scenario.
You be the judge… Are these ~beautiful~ lyrics or could Camila's tweet be something else entirely?
Her tweet read,
just as i was about to shut the door, i had to look again something was different about the girl staring back at me in the mirror. oh yes i realized the light had crept its way back into her eyes two words slipped from her mouth 'welcome home'
Although I was pretty shaken up myself about Camila's peacing out from Fifth Harmony ("That's My Girl" is legit my number one JAM), I have to admit I am totally pumped to see what solo music Camila Cabello has in the works.
She has an incredible voice and constantly slays it.
Citations: Is Camila Cabello Teasing Solo Song Lyrics on Twitter Already? (Seventeen)