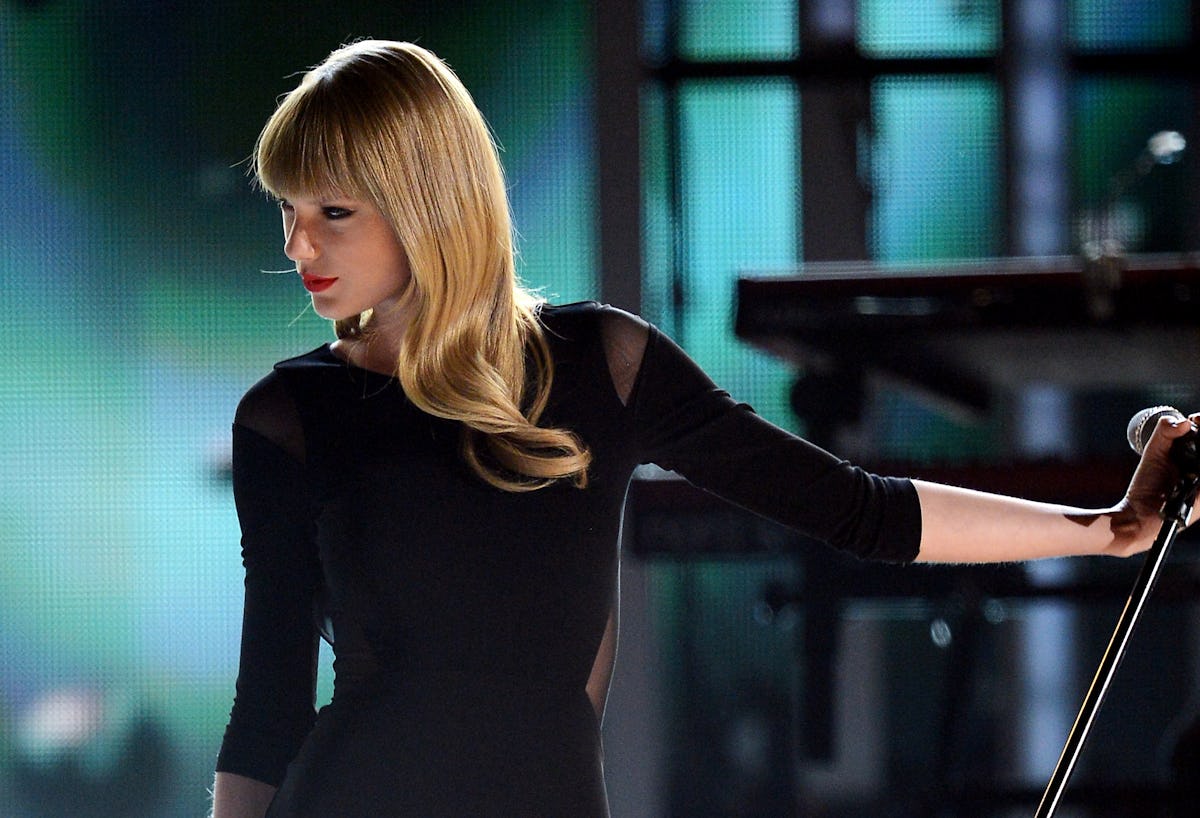 Taylor Swift's Fans Think "Call It What You Want" Low-Key Disses Kim K & Kanye
Ethan Miller/Getty Images Entertainment/Getty Images
Is it just me, or does Taylor Swift keep getting, like, better? Whether you love to hate her or hate to love her, you've got to admit her new song is evoking some real feels. Swift dropped her latest single on Nov. 3 at midnight, and left fans shook. Some think "Call It What You Want" is about Kanye West and Kim Kardashian, weirdly enough, and it all has to do with some choice lyrics.
It doesn't take an AP English expert to figure out Reputation is Taylor Swift's pointed response to a career filled with ridicule, scandals, and celebrity feuds. The world seems to be broken up into two teams: those who believe Taylor has been playing the ultimate victim and those who think Taylor is better than anyone else in the whole word. (Yes, even Beyoncé. Crazies.)
A huge undeniable piece of Swift's career has been the long-standing conflict she has with Kimye. You guys know the one I'm talking about.
From the famous "Imma let you finish" speech, to Kim releasing the smoking gun video of Swift's conversation with West about his song "Famous," there are lots and lots of content here for Taylor to pull from on this new album.
In "Call It What You Want," fans feel she is low-key throwing shade at the famous couple, while simultaneously championing her own romantic relationship.
Listen here.
In the beginning of the song, Swift sings the words,
My castle crumbled overnight/ I brought a knife to a gunfight/ They took the crown but it's alright/ All the liars are calling me one/ Nobody's heard from me for months/ I'm doing better than I ever was
Hm... I mean, it's not impossible she is metaphorically talking about her ongoing narrative with Kimye, one she "never asked to be a part of since 2009," if you guys remember.
Fans are certainly drawing the parallels on Twitter.
Of course, so much more of the song is dedicated to someone she clearly adores, which has us all thinking it must be partially written for her new boyfriend, Joe Alwyn.
As the song continues, Swift paints a picture of someone coming in and essentially making all the bad stuff go away... aka ... Joe? Perhaps?
The lyrics continue:
All my flowers grew back as thorns/ Windows boarded up after the storm/ He built a fire just to keep me warm/ All the drama queens taking swings/ All the jokers dressing up as kings/ They fade to nothing when I look at him
Cause my baby's fit like a daydream/ Walking with his head down/ I'm the one he's walking to/ So call it what you want yeah, call it what you want to/ My baby's fly like a jet stream/ High above the whole scene/ Loves me like I'm brand new/ So call it what you want yeah, call it what you want to
I gotta be honest with this one... I dig it. The song is catchy, but not in an annoying way like some pop songs fall victim to. In general, Swift's impeccable PR for Reputation has kept fans on our toes and the overall response has been roaring.
Now that this doozy is over, we can gear up for the next Swift extravaganza which will be arriving in the form of a special performance during ABC's TGIT lineup on Nov. 9. The appearance will come exactly one day before the entire album release on Nov. 10.
To catch any other information or special details on what Taylor has up her sleeve, we recommend just keeping your eyes peeled and never sleeping again. She's sneaky, that Taylor.
Check out the entire Gen Why series and other videos on Facebook and the Bustle app across Apple TV, Roku, and Amazon Fire TV.