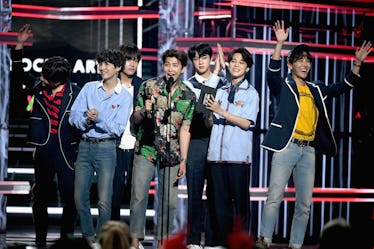 BTS Wasn't Nominated For A 2019 Grammy, So ARMYs Are Seriously Bummed
Ethan Miller/Getty Images Entertainment/Getty Images
There is no doubt about it, 2018 belongs to BTS. The K-pop group has soared globally in the music industry crushing record after record and appealing to one of the largest fan bases out there. They are, for all intents and purposes, real idols. Still, the industry is finicky and popularity alone doesn't always yield recognition. Now that awards season is in full swing, fans are wondering — Did BTS get nominated for a 2019 Grammy? Unfortunately, the K-pop sensations were snubbed in the major categories this year. Yep, the group BTS wasn't nominated for a 2019 Grammy, but someone on their team was, so it's something!
Let's be real. The Academy doesn't traditionally love boy bands. One group that is regularly referenced for all of its Grammy snubs is the iconic former group One Direction. Fans were concerned BTS would have a similar journey, though some people originally thought they may be nominated for Best New Artist thanks to what seems to be their overnight success. In reality, BTS has been burning the stage across the globe for a long, long time. In fact, they have six studio albums, which hardly makes them "new."
Even so, the ARMY is not here for this Grammy snub.
Even though the ARMY was not pleased, it was an expected miss for some.
The ARMY is actually a pretty understanding group.
However, the boys were eligible for other heavy-hitting categories like Album of the Year, Record of the Year, Song of the Year, Best Pop/Duo Group Performance, Best Pop Vocal Album, and Best Music Video. Of course, these kinds of categories would be thanks to their albums Love Yourself: Tear and/or Face Yourself and their single "Fake Love." Plus, it's not like the Grammys have been ignoring BTS entirely.
Fans were quick to point out that the band did get some recognition, since the art director of Love Yourself: Tear, HuskyFox, was actually nominated for Best Recording Package.
In fact, the Grammys' website has loads of BTS information and interviews including the music they're loving right now and tidbits into their creative process. (Just for your own FYI, the seven guys' preference in music runs the gamut from "Sicko Mode" to "Despacito." Respect.) Also, in September 2018, BTS stopped by the Grammys Museum for an "intimate convo" in front of 200 fans. During that interview, they spoke about their songwriting process and what it's like collaborating as a group.
Suga explained it's a long process that involved looking at every aspect to a finished track, like its accompanying choreography, lyrics, costumes, and so on. He said it happens, "not necessarily in that order, but all sort of at the same time." JungKook also spoke the scope of the group's success and how it's affected their outlook at celebrities. "That makes us think more about our responsibilities, how we should act, how we should make our music," he said. "So it makes us think more deeply about what we do, how responsible we should be about what we're doing, and the music we're making."
Fortunately, their care and methodical approach to their careers and work continue to pay off. Their Grammy snub in the major categories is not a reflection of their incredible success and certain continued growth.