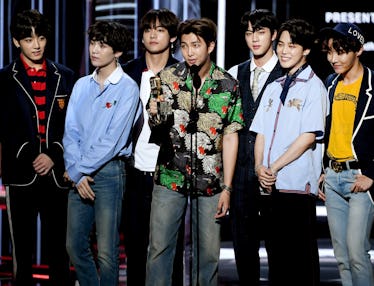 Here Are The Chances That BTS Will Be Nominated For A Grammy
Kevin Winter/Getty Images Entertainment/Getty Images
With the 2019 Grammy nominations being announced on Friday, Dec. 7, there are a lot of questions about whether BTS' success this past year will factor heavily into how the nominations play out. While BTS is still pretty new to American audiences, they're not necessarily new internationally, and that calls into question which awards they may (or may not) be eligible for. So, will BTS be nominated for a Grammy? Or even multiple Grammys? Well, it depends.
See, the Grammy award nomination process is actually quite complicated. While it's easy to think that any artist who's released music over the past year could potentially be nominated for a 2019 Grammy, that's actually not the case. So, what are the rules exactly?
Firstly, any artist nominated for a 2019 Grammy award needs to have released music between Oct. 1, 2017 and Sept. 30, 2018, according to Grammy.com. Since BTS' latest album Love Yourself: Tear was released in May 2018, the guys definitely have a chance at being nominated for something. But which awards do they qualify for?
Although many BTS fans have hoped the guys could be nominated for an award like Best New Artist, BTS unfortunately doesn't seem to qualify. And that's only because they've produced so much incredible music already.
Here's what Grammy.com says about what qualifies as Best New Artist:
To be eligible in the category of Best New Artist, an artist, duo, or group: Must have released a minimum of five singles/tracks or one album, but no more than 30 singles/tracks or three albums in their career to date.
So far, BTS has released a total of six studio albums, so that automatically disqualifies them for a Best New Artist nomination. That's a bummer, for sure, but not the end of the road for them!
They are qualified to be nominated for a bunch of other awards, including the following:
Album of the Year for Love Yourself: Tear and/or Face Yourself (this one goes to the people who wrote the album)
Record of the Year for Love Yourself: Tear and/or Face Yourself (this one goes to the people who performed the album)
Song of the Year for "Fake Love"
Best Pop/Duo Group Performance
Best Pop Vocal Album for Love Yourself: Tear and/or Face Yourself
Best Music Video for "Fake Love"
Even with Best New Artist out of the question, there's still some hope that they'll be nominated in all these other categories.
Sadly, though, there's no guarantee. Even if the boys are eligible for all the awards above, once an entry is cleared as eligible for a nomination, it has to be voted on by members of the Recording Academy to actually get the nomination.
And, sadly, the fact that BTS is a boy band is not exactly working in their favor. Historically, the Recording Academy hasn't been particularly kind to boy bands and a good many iconic bands have been snubbed during awards season. Even One Direction couldn't snag a Grammy nomination in all their time together, so what does that mean for BTS?
Well, it likely means that the odds are stacked against them simply because they are a boy band. Yup, life simply is not fair.
Still, I can't help but hold out hope! I think it would be hard for the Recording Academy to overlook BTS since they've been so incredibly successful and visible this past year. It would certainly be a shame if they were snubbed, but hopefully they won't be!
No matter what happens, there's no doubt that BTS is completely deserving of all the awards on the planet (and maybe even the galaxy?).