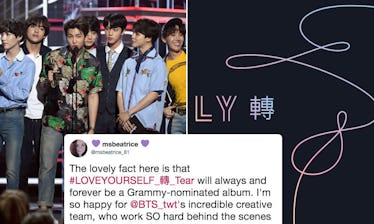 Here's What You Should Know About BTS' Grammy Nomination For Best Recording Package
Ethan Miller/Getty Images; BigHit Entertainment
So, BTS didn't get nominated for a 2019 Grammy award, which is a bit of a bummer. But there's still cause to celebrate, because while the boys themselves didn't get a Grammy nomination, their art director, HuskyFox, did get nominated for Best Recording Package for Love Yourself: Tear, and honestly, that's a pretty huge deal, not only for BTS, but for K-Pop in general. So, what is the Grammy for Best Recording Package? Allow me to explain.
The Grammy Award for Best Recording Package is awarded for the quality visual look of an album and is presented to the art director, not the performer. So in this case, HuskyFox is nominated for the Grammy for its work on BTS' album Love Yourself: Tear, not BTS themselves. Still, this nomination is not to be taken lightly. This is one of the first K-Pop albums to be recognized at the Grammys (behind Korean singer Jo Sumi, who won Best Opera Recording in 1992), so the fact that BTS' art director was nominated is an incredibly big deal.
And, while BTS as a group didn't score any noms, that hasn't stopped fans on Twitter from being overwhelmingly excited for the boy band and for HuskyFox, because a Grammy nomination proves that there is room for inclusion for K-Pop, and shines a light on South Korean music in general:
BTS ARMY is forever grateful, and that makes this nomination even better than it already is.
While BTS didn't score any noms themselves, it goes without saying that they were certainly eligible for (and deserving of) other major categories like Album of the Year, Record of the Year, Song of the Year, Best Pop/Duo Group Performance, Best Pop Vocal Album, and Best Music Video. Their latest album, Love Yourself: Tear, was released in May 2018, meaning they were more than eligible to be nominated (according to Grammy.com, music needs to be released between Oct. 1, 2017 and Sept. 30, 2018 in order to be considered).
But unfortunately, it seems like the Recording Academy hasn't exactly been kind when it comes to boy bands in the past — take One Direction, for example, who got snubbed in the past as well for Grammy nominations, seemingly for the sole reason that they were a boy band.
Regardless, BTS has reached a new milestone, and it's widely apparent that all of their hard work has paid off. Instead of viewing this as a Grammy snub for BTS, think of it as a total win for BTS and K-Pop as a whole since BTS' name is receiving global recognition at one of the most prestigious nights in music.
And remember, you can still get your BTS fix soon at the 2018 Mnet Asian Music Awards, where they will be performing at two of the three ceremonies that will take place across Asia. You will be able to catch the boy band performing both in Japan at the 2018 MAMAs Fans' Choice on Dec. 12, as well as at the official 2018 MAMAs on Dec. 14.
No matter what, BTS has been breaking boundaries left and right with their music, and the entire world has begun to notice. Their potential is unlimited, and I personally can't wait to see what BTS has in store for the future.