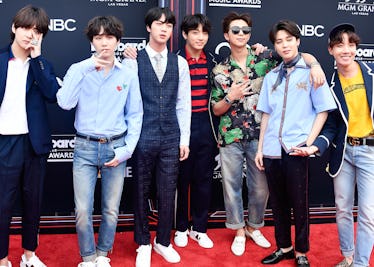 BTS Are Performing Not Once, But Twice At The 2018 MAMAs, So Get Hype
Frazer Harrison/Getty Images Entertainment/Getty Images
The 2018 Mnet Asian Music Awards, also known as the MAMAs, are coming upon us quickly. It was previously announced that the MAMAs will take place over the span of a week with three separate ceremonies across Asia. The 2018 MAMA Premiere in Korea is the first ceremony and will take place in Seoul on Dec. 10; on Dec. 12, the 2018 MAMA Fans' Choice will take place in Japan; and on Dec. 14, the 2018 MAMAs will take place in Hong Kong. Naturally, fans are wondering if K-pop boy band BTS will be showing face at any of the ceremonies. So, will BTS be at the 2018 MAMAs? Well, BTS fans, prepare yourselves, because it looks like they'll be at not only one, but TWO of the ceremonies to perform!
The MAMAs finally announced their lineup, which included popular K-pop artists like TWICE, Wanna One, and IZ*ONE. But of course, when it was announced that Jungkook, Jimin, V, Suga, RM, Jin, and J-Hope (aka, the members that make up BTS) would be performing, fans went nuts. The famous boy band have been slated to perform in Japan at the 2018 MAMAs Fans' Choice on Dec. 12, as well as the official 2018 MAMAs on Dec. 14, meaning we get a double dose of BTS, and nobody is mad about it.
Naturally, Twitter went wild with excitement after hearing the exciting news:
No better army than the BTS ARMY, amirite?
BTS is nominated for a whopping 7 awards in a variety of categories. Their song "Fake Love" has been nominated for three different categories, which include Mwave Global Fan Choice, Best Dance Performance – Male Group, and Song of the Year. Their song "Idol" has been nominated for TikTok Best Music Video, and the band itself has scored nominations in Best Male Group, Artist of the Year, and Worldwide Icon of the Year.
Basically, BTS has an impressive number of noms, and they should be pretty damn proud of themselves.
Thumbs up all around, you guys.
No matter how many nominations they end up winning, it's great to know that BTS has extended their contract with Big Hit for another seven years, meaning we'll all be getting much more BTS in our future.
Their label, Big Hit Entertainment, released a statement regarding the news, which read in part,
It is our philosophy that we should cater the best to artists who's achieving an unprecedented global success ... After the thorough discussion with seven members of BTS, we decided to renew the contract before the world tour to ensure more stable, long-term activities.
In an emailed statement on Wednesday, Oct. 17, BTS thanked Big Hit founder Bang Si-hyuk for all that he's done for the band thus far.
The statement read in part,
We respect our mentor, producer [and Big Hit founder] Bang Si-Hyuk who has continued to show us a vision for our future from even before debut and have helped us form our perspective of the world and music. With Big Hit Entertainment's support, we'll continue to strive to give our best for fans all around the world.
Your fans all thank you, you guys. In the meantime, let's all prepare ourselves for what will undoubtedly be a three-night celebration to remember. In the meantime, you can rewatch the boys' Melon Music Awards performance of "Idol" and theorize about how the heck they're going to top it at the MAMAs (which they most definitely will).