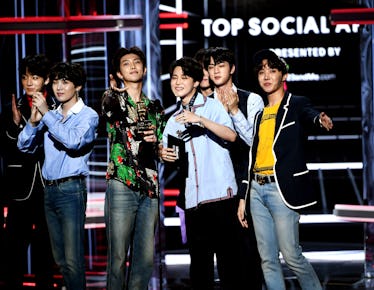 BTS Just Broke A Major Record Set By One Direction With Their 'Burn The Stage' Movie
Kevin Winter/Getty Images Entertainment/Getty Images
I am not here to start drama between BTS and 1D fans, so don't @ me. I am simply here to state the facts, which is BTS' Burn The Stage ratings just broke a major record previously set by One Direction and I think that's significant. Even if K-pop isn't on your radar (it should be) and you don't think you like it (you should) there's no denying BTS' omnipresent success. Now, their first full-length feature movie is cleaning up at the box office. It's making "get tickets" soar to the top of my To-Do list, right above "figure out what 'the cloud' is" and "take AC units out of the windows." God bless these dancing beautiful boys.
According to Forbes, Burn The Stage: The Movie reeled in $2.4 million in the U.S. over its three-day weekend debut and a cumulative total of $3.6 million in all of North America. Reportedly, it debuted at 2,500 theaters around the world, which brought in $14 million. Forbes also reports that, with 1.4 million worldwide admissions, Burn The Stage eclipsed a previous record for highest-grossing event cinema concert production set by 1D's documentary, One Direction: Where We Are, which totaled 1.2 million admissions.
Burn The Stage's distributor, Trafalgar Releasing, explained almost 1 million tickets were sold in advance of the movie's release across the globe. Plus, there were a variety of viewing parties ready and waiting to flood their local theaters. VP of Content Strategy and Inclusive Programming at AMC Theatres, Nikkole Denson-Randolph, explained, "BTS fans filled AMC theaters across the country. It's exciting to feel the audience's passion for this documentary film, starting from the moment the cinema events were announced."
Forbes broke down the film's success even further, explaining "the per theater average on opening Thursday was higher than any other film in the U.S. top 10," adding that the number was yielded from only 617 theater locations compared to the 2,000-4,000 locations of the other top 10 releases on its opening weekend.
I know, it's a lot of numbers to digest, so if math isn't really your thing you can take away this: it's a big freaking deal. It also brings home the message to never underestimate the power of the BTS ARMY.
The movie was directed by Park Jun Foo and teased out from the pre-existing YouTube series which launched in March 2018. The film follows the group on their 2017 Live Trilogy Episode III: The Wings tour and includes concert footage as well as behind-the-scenes moments and independent interviews from all of the boys. Over the course of the tour, RM, Jin, SUGA, J-hope, Jimin, V, and Jungkook performed at 40 concerts across 19 cities and 12 countries. NBD.
If you haven't seen the movie yet or just want to relive the glory, here's the trailer for funsies:
If you know you want to get in on all of the K-pop fun but don't feel ready to plummet into a documentary, no worries. The internet is full of think pieces, music video compilations, and band-member bios to bring you up to speed.
Congratulations, BTS and Godspeed!