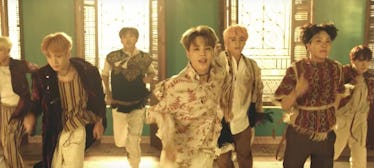 BTS' "Airplane Pt. 2" Music Video Ends With Dancing In The Rain, So Prepare Your Eyeballs
YouTube
Happy Tuesday to BTS, ARMY, and no one else! The iconic K-pop group just released a new music video and hell yes it features the boys dancing in the rain. Get ready to swoon you guys, because the BTS' "Airplane Pt. 2" music video is fierce and it will probably derail your whole work day.
The video has everything you love about every BTS music video and then some. Sometimes, when no one is looking, I try to learn a few beats of their dance moves and I always end up gasping for breath wondering how it's even possible for BTS to dance and sing that hard at once. The guys seriously slay in this new video, which is saying a lot considering they crush it in every video they've ever released. This particular music video accompanies the Japanese version of the original "Airplane Pt. 2" track, which was first released in Korean. As if BTS didn't already ooze global appeal, the track itself is Latin pop-inspired.
It's just so, so good, guys.
Billboard describes the song lyrics as "reflecting on the artist's desire to succeed." It starts with the boys talking about their hopes and dreams and then fast-forwards to their lifestyle now as traveling artists who live on the road — hence the lyrical references to mariachi bands.
But back to the dancing!!!
These guys look like they're getting a cardiovascular workout equivalent to running a marathon, but they're not even breaking a sweat. Some of my favorite choreography moments happen at timestamps 1:15, 2:10, and 2:50, though I could watch J-Hope dance solo on a bar all day.
Here are a few of the lyrics translated into English:
[Verse 1: Jungkook] An odd kid / He sang as if he was breathing / Wherever was fine / He only wanted to do music / Only singing / The thing that made his heart beat / Although he walked down the only path
[Verse 2: Jimin, V] It's not easy / Failure and frustration / Words that someone gave me after calling me, exhausted, to stop / You're a singing star / You're a singing star / But I see no star...After some years passed by
[Verse 3: J-Hope] Every day above the clouds, Every day above the clouds / My feel above the clouds, Check it above the clouds / My chemistry with the clouds, All day with the clouds / The fun of riding the clouds, Fade in looking at the clouds / You don't know maybe / Thanks to years of flying / I got a few hundred thousand mileage / It's time to console you who couldn't make it / I'll give you the flight points as a present / Love the airplane mode, Turn off all the concerns / No matter what anyone says / I'll just continue to keep the first / And look at the night sky as it fits my place right now
Then, ya know, the chorus repeats the words "el mariachi" a lot.
I tried to get my dog to learn a dance move or two with me but she isn't having it. It's like what's a girl gotta do to get a BTS dancing partner around here?