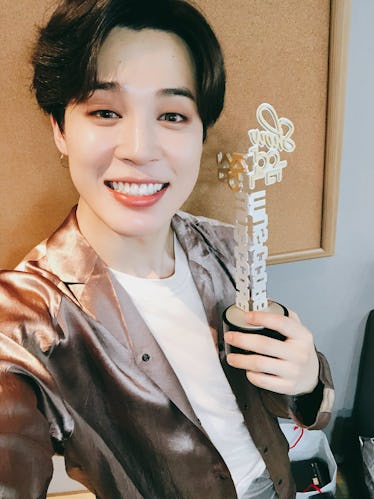 Here's Everything You Should Know About Park Jimin, BTS' Prince Charming
BTS just finished up the North American leg of their Love Yourself world tour on Oct. 6 and, while they were in the United States, they really made a mark on U.S. ARMY and the locals. My mom even called me after their Sept. 26 performance on Good Morning America to make sure I, as a celebrity editor, knew about that Korean boy band BTS. And yes mom, I'm totally on it. Anyway, RM, Jungkook, V, Suga, Jin, and J-Hope have all solidified themselves as international heartthrobs, but let's take a moment to appreciate BTS' resident charmer, Park Jimin. In the span of the month BTS was on U.S. soil, he went viral about 15 times, and these facts about Jimin from BTS can probably shed some light on why, exactly, Jimin has mesmerized fans and locals worldwide.
1. He's BTS' hardest worker.
Before you come for me and my bias, I'll have you know this is a fact pretty much universally acknowledged by the band. It's undeniable that every member of BTS works extremely hard (how could you not when you're part of the biggest boy band in the world), but the boys have pointed out several times that Jimin has the "practice bug," aka, an extraordinary will to rehearse non-stop.
"I'd have to say that Jimin has given me the biggest influence. The way I see it, he's perfect," Jin said of Jimin during a Q&A posted to BTS' YouTube channel. "He's perfect on stage, so I wonder how he's able to work tirelessly. Seeing Jimin work so hard — I practice with RM in the corner and when I'm tired, I take a look at Jimin. He's still working then."
You can watch Jin shower Jimin's work ethic with praise by scrubbing to the 27:17 mark in the video below:
2. He's formally trained in modern dance.
While every member of BTS is an exceptional dancer, Jimin is widely acknowledged to be one of the best dancers in the group and even in K-Pop as a whole (alongside his bandmate and fellow BTS main dancer, J-Hope). He's often lauded for his smooth and elegant movements on stage. And that's probably thanks, in part, to his training in modern dance, which he specialized in when he attended the Busan High School of Arts prior to debuting as part of BTS.
Check out this throwback performance from his pre-debut days and prepare to have your mind blown.
Definitely a completely different style than we're used to seeing him perform in BTS, but now you can probably understand why Jimin's killing parts are so dang legendary.
3. He holds himself to an extremely high standard.
Jimin is a perfectionist. It's, no doubt, part of the reason why he's come so far as an artist, but ARMYs' hearts break whenever they see Jimin being too hard on himself. In the boys' Burn The Stage series, which documented their Wings tour, Jimin opened up about how he can sometimes get insecure about his vocals.
"Others could say it's not a big deal, but that one thing makes me feel guilty and I start to get stressed out because of it. More so because I can't do anything about it," he explained about his solo performances of "Lie."
Jungkook, who is BTS' main vocalist, praised Jimin's work ethic and explained Jimin's journey to becoming the amazing vocalist he is today. "If you listen to his singing now, it changed a lot compared to before," Jungkook explained. "He asks me a lot of questions about the vocal part... He feels bad after every performance. He says that he doesn't know how to use his vocal chords. And I feel bad for him when I see him like that. He's not in a position where he can take vocal lessons."
Watch the clip from Burn the Stage below and prepare to have your heart broken.
Did you hear that sound? That's the sound of every ARMY in existence shouting, "JIMIN, YOU HAVE THE VOICE OF AN ANGEL," in unison.
Although it's heartbreaking to see Jimin be so hard on himself about his voice cracking, it's his modest nature and perfectionism that have contributed to his epic stage presence. But, like, Jimin: The only thing that you should feel bad about when it comes to your voice is the fact that it keeps me up at night because I can't stop marveling at its beauty. Okay? Okay.
4. His charm is irresistible.
This is arguably not a fact. I'll give you that. But what is a fact is that Jimin's charm on stage and in interviews has landed him in Twitter's top trends worldwide countless times. I mean, remember that time he breathed on stage in L.A. and went viral for it?
Case in point: Jimin barely spoke 10 words of English during BTS' entire Love Yourself press run in the United States and yet he was able to start the most epic bromance with Jimmy Fallon and catch the eyes of the locals who watched their America's Got Talent "Idol" performance.
How, you ask? Well, charm is a universal language, ok? And Jimin speaks it. Fluently.
Just check out this moment he met an American fan during BTS' appearance on Good Morning America on Sept. 26. Sure, they barely spoke, but Jimin's smile and attentive nature were enough to make that little girl and everyone in their vicinity's hearts melt.
5. He's besties with Jimmy Fallon.
Speaking of charming Jimmy Fallon, shall we just relive that moment Jimin charmed Jimmy Fallon to bits? The boys stopped by The Tonight Show on Sept. 25 to perform "Idol," and even though Jimmy and Jimin don't speak the same language, they created an unbreakable bond through their shared charm and almost-shared name.
Jimmy started BTS' segment wearing a Chimmy headband in Jimin's honor, and Jimin pretty much fell to the floor from the feels when he saw it (we all know Jimin loves a bit of praise).
Later, Jimmy couldn't help but hype Jimin up as he prepared to introduce himself to the world, and the pair shared the most bromantic hug. Check out the moment below:
Then, just to further prove their never-ceasing connection, Jimmy sent the boys his well wishes before they performed their historic concert at New York's Citi Field stadium... wearing a Chimmy onesie, of course.
And Jimin actually responded with his now-iconic line, "You look so cute."
Move over Justin Timberlake, there's a new Jimmy Fallon bromance in town!
6. He's got the most-viewed fancam ever.
So what does Jimin's impeccable dance moves, plus his irresistible charm equate to? A record-setting fancam, obviously.
For some background, a fancam is a popular K-Pop staple where a group's performance is recorded, but focused on one particular member of the band so that fans can really take in their bias' full performance without being distracted by the other members.
There are no "official" fancam viewership rankings (that I can find), but if I simply search "fancam" on YouTube and sort the results by views, Jimin's "Fake Love" fancam from their MNet Comeback performance in May 2018 comes in at the top with 33 million views.
Jimin's bandmate, Jungkook, follows closely behind in second place with his fancam from the same performance having racked up 30 million views. So Jimin's bandmates are no joke, either.
I've only just scratched the surface of all that Park Jimin has to offer in this post, but I have a feeling you'll be seeing more and more of Jimin and his BTS bandmates in the future. BTS' star is only getting brighter and brighter these days and they show no signs of losing steam.