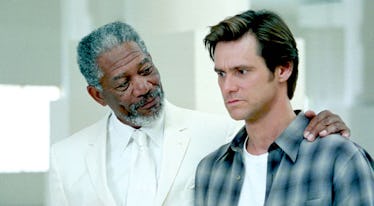 'Bruce Almighty' Is Coming To Netflix In September, So Miracles Really Do Exist
Universal Pictures
Here's some news that is simply B-E-A-utiful: Bruce Almighty will finally be stream-able on Netflix in just a little over a week. Jim Carrey's godly 2003 comedy is one of the actor's most beloved movies, along with featuring one of Morgan Freeman's most iconic roles as none other than God, so Netflix subscribers everywhere must be jumping for joy right now. So let's talk about when Bruce Almighty is coming to Netflix and the other exciting movies being added to the streaming service.
You can start streaming Bruce Almighty on Netflix on Saturday, Sept. 1, so you only have to wait about a week and a half to rewatch the Jim Carrey classic. The movie actually just celebrated its 15-year anniversary a few months ago, so streaming it would definitely be a fitting way to celebrate. Bruce Almighty stars Carrey as a down-on-his-luck television reporter (although he is dating Jennifer Aniston, so like... is he really that down-on-his-luck?) who is given God's powers and proceeds to have a field day with them... before having to face the repercussions of his magical actions.
The addition of Bruce Almighty on Netflix makes sense. The streaming service already carries the movie's Steve Carrell-fronted spinoff/sequel Evan Almighty, and it will join a host of other iconic Jim Carrey movies that are available on Netflix, such as The Truman Show, Eternal Sunshine of the Spotless Mind, and How the Grinch Stole Christmas.
And Bruce Almighty is not the only exciting new movie that will be available on Netflix in September. Buzzfeed has confirmed that the Disney cartoon The Emperor's New Groove will come to Netflix on Sept. 2, and on Sept. 25, the more recent Disney live-action movie A Wrinkle in Time will be added, as confirmed by E! Online.
This year's hit Marvel movie Black Panther is also coming to Netflix on Sept. 4, as reported by Comicbook.com, but there is also some sad news attached to that announcement: Black Panther will be one of the last Marvel movies to stream on Netflix. Since the dawn of the Marvel Cinematic Universe, the studio has released its superhero flicks on Netflix in a matter of months after their theatrical release, but that is ending with next year's Captain Marvel. Instead of streaming on Netflix, Marvel's movies will move to Disney's upcoming streaming service, which is expected to debut next year.
There are a whole lot of more movies and shows that are coming to Netflix in September, but we will have to wait until the streaming service releases its full list of September additions on Wednesday, Aug. 22 to get the full rundown. Until , we all have Bruce Almighty to look forward to! The now 15-year-old fantasy-comedy will be available to stream on Netflix on the very first day of September, so you will barely have to wait at all.
Before you all rush off to start planning your Bruce Almighty movie nights for next weekend, I will leave you all with Bruce's iconic sign-off: And that's the way the cookie crumbles.