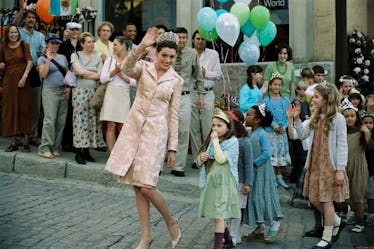 Here's Everything That's Coming To Netflix This August
Buena Vista Pictures
It's too hot to basically do anything (I just put my pajamas in the freezer for later, FYI), so I'll be over here for the rest of the summer positioned by my trusty fan admiring what's coming to Netflix in August. The streaming service just released its new titles for next month, and the new slate will surely keep you entertaintained through Labor Day.
After you watch Happy Gilmore four times and finish Orange Is the New Black — Season 6 debuts July 27 — you can move on to Netflix's fresh assortment of amusing TV and movie treats as they arrive throughout the month. July brought us The Princess Diaries and August serves up The Princess Diaries 2: Royal Engagement. Perfect timing, Netflix. I like your style and am ready to belt "Your Crowning Glory" for the rest of the season.
Other movie highlights include Batman Begins, The Informant!, Steel Magnolias, P.S. I Love You and Clerks. There's also the Oscar-winning Million Dollar Baby and its 2004 competitor for Best Picture, The Aviator.
Fans of Ozark should be happy to know that Season 2 of the Netflix original crime drama will be available August 31. Season 1 is up for four Emmys in September, including Best Lead Actor in a Drama for Jason Bateman.
Mark your calendars. Take a look at the full list of titles coming to Netflix this August:
AVAILABLE AUGUST 1
Batman Begins
Chernobyl Diaries
Clerks
Constantine
Dreamcatcher
Edge of Fear
Eraser
Gran Torino
House of Deadly Secrets
Los tiempos de Pablo Escobar, Season 1
Million Dollar Baby
No Reservations
Once in a Lifetime Sessions with Moby
Once in a Lifetime Sessions with Nile Rodgers
Once in a Lifetime Sessions with Noel Gallagher
Once in a Lifetime Sessions with TLC
P.S. I Love You
Secretariat
Silverado
Steel Magnolias
Stripes
Switched (Netflix Original)
The Aviator
The Golden Compass
The Informant!
The Lord of the Rings: The Fellowship of the Ring
The Princess Diaries 2: Royal Engagement
AVAILABLE AUGUST 2
Emelie
AVAILABLE AUGUST 3
Brij Mohan Amar Rahe (Netflix Film)
Cocaine Coast (Netflix Original)
Dinotrux Supercharged, Season 3 (Netflix Original)
I Am A Killer (Netflix Original)
Like Father (Netflix Film)
Marching Orders (Netflix Original)
AVAILABLE AUGUST 4
Flavors of Youth: International Version (Netflix Original)
Mr. Sunshine (Streaming every Saturday, Netflix Original)
On Children (Netflix Original)
AVAILABLE AUGUST 5
Paid in Full
AVAILABLE AUGUST 9
Perdida (Netflix Film)
The Originals, Season 5
AVAILABLE AUGUST 10
72 Dangerous Animals: Asia (Netflix Original)
Afflicted (Netflix Original)
All About the Washingtons (Netflix Original)
Demetri Martin: The Overthinker (Netflix Film)
Insatiable (Netflix Original)
La casa de las flores (Netflix Original)
Million Pound Menu (Netflix Original)
The Guernsey Literary and Potato Peel Pie Society (Netflix Film)
The Package (Netflix Film)
The Ponysitters Club (Netflix Original)
Voltron: Legendary Defender, Season 7 (Netflix Original)
Zion (Netflix Original)
AVAILABLE AUGUST 11
No Country for Old Men
AVAILABLE AUGUST 13
Alexander: The Ultimate Cut
Splash and Bubbles, Season 2
The Nut Job
AVAILABLE AUGUST 15
Adventures in Public School
Hostiles
The 100, Season 5
AVAILABLE AUGUST 16
Evan Almighty
Wish I Was Here
AVAILABLE AUGUST 17
Disenchantment (Netflix Original)
Magic for Humans (Netflix Original)
Pinky Malinky (Netflix Original)
Spirit Riding Free, Season 6-- (Netflix Original)
Stay Here-- (Netflix Original)
The Motive (Netflix Film)
To All The Boys I've Loved Before (Netflix Film)
Ultraviolet (Netflix Original)
AVAILABLE AUGUST 19
The Investigator: A British Crime Story, Season 2 (Netflix Original)
AVAILABLE AUGUST 21
Year One
AVAILABLE AUGUST 23
Deadwind (Netflix Original)
Follow This (Netflix Original)
Great News, Season 1
AVAILABLE AUGUST 24
Ask the StoryBots, Season 2 (Netflix Original)
Bert Kreischer: Secret Time (Netflix Original)
Ghoul (Netflix Original)
The After Party (Netflix Film)
The Innocents (Netflix Original)
Trolls: The Beat Goes On!, Season 3 (Netflix Original)
Young & Hungry, Season 5 (Netflix Original)
AVAILABLE AUGUST 28
The Good Place, Season 2
AVAILABLE AUGUST 31
Inside the Criminal Mind (Netflix Original)
The Laws of Thermodynamics (Netflix Film)
Ozark, Season 2 (Netflix Original)
Paradise PD (Netflix Original)
The Comedy Lineup (Netflix Original)
Ultimate Beastmaster: Survival of the Fittest (Netflix Original)
Undercover Law (Netflix Original)