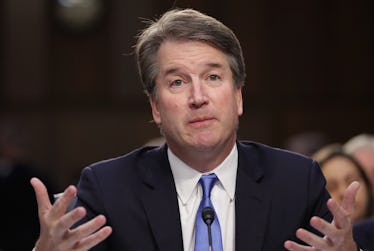 Brett Kavanaugh Danced Around Abortion Rights At His Hearing, Which Isn't Reassuring
Chip Somodevilla/Getty Images News/Getty Images
The second day of Brett Kavanaugh's Supreme Court confirmation hearing is underway, and it's gearing up to be just as controversial as the first. On Sep. 5, Sen. Dianne Feinstein asked the Supreme Court hopeful his thoughts on women's right to choose, and Brett Kavanaugh's answer on abortion was not exactly definitive.
During the confirmation hearing, Kavanaugh acknowledged that the 1973 Supreme Court case Roe v. Wade, which legalized abortion in the United States is precedent and had been reaffirmed by the 1992 case Planned Parenthood v. Casey, which ruled that regulations couldn't put an "undue burden" on access to abortion. However, he failed to answer directly whether he thought the landmark decision could be overturned, or share his opinions on abortion rights in general.
"One of the important things to keep in mind about Roe v. Wade is that it has been reaffirmed many times over the past 45 years as you know," Kavanaugh said at the hearing.
Following his response, Sen. Feinstein asked Kavanaugh whether his views on abortion rights has changed since working within the George W. Bush administration. Despite the direct question, the Supreme Court hopeful danced around the topic once again by stating he understands the "importance of this issue," but failed to directly answer whether he supported a woman's right to choose.
"I understand how passionate and how deeply people feel about this issue," Kavanaugh said. "I don't live in a bubble."
Kavanaugh's responses to Feinstein's questions sparked a lot of discussion among the Twittersphere, with many people in particular pointing out that he failed to genuinely share any opinions of his own. However, one thing everyone can look forward to is that he'll have to face those questions again later in the hearing.
Following his remarks, Vice President of NARAL Pro-Choice America, Adrienne Kimmell, shared a statement with Elite Daily on Sep. 5 voicing her concerns about Kavanaugh's wishy-washy answers.
Brett Kavanaugh's first answer on abortion was nothing more than a one-dimensional recount of history that ignored the fundamental rights and needs of women. No one is fooled: Kavanaugh already stated his desire to overturn Roe and Casey, and provided his roadmap for repealing the landmark decisions. He gave no affirmations or indications that he will defend our most essential rights he is obligated to protect. His record and his actions speak louder than his words today. This is not the time to take our rights and lives for granted and assume our fundamental freedoms are safe. Precedent can be overturned, and Trump appointed Kavanaugh as the man to do just that.
In June, Supreme Court Justice Anthony Kennedy announced his intention to retire at the end of July. Once Kennedy announced his retirement, Donald Trump revealed Kavanaugh as his pick to replace Kennedy as the next Supreme Court Judge. Judging from Kavanaugh's uncommitted answers concerning abortion rights, it's safe to assume that he would be quite a different judge than his predecessor.
While serving on the Supreme Court, Kennedy served as a key swing vote in regards to many social-based court cases, particularly concerning abortion rights. After he was appointed in 1988, he was a critical vote to reaffirm Roe v. Wade via the case Planned Parenthood v. Casey.
Dr. Willie Parker, who is the Board Chair of Physicians for Reproductive Health, shared a statement with Elite Daily on Sep. 5 describing the impact Kavanaugh's appointment would have on the safety of young women, and his future patients. He said,
If Brett Kavanaugh is confirmed to the Supreme Court, the rights of my patients, not to mention all reproductive-aged women, would be impacted for generations. Patients are facing unacceptable restrictions to abortion care now and, if Kavanaugh is confirmed, I worry that ultimately, none of us will be able to make decisions and control our own destinies.
He continued,
There are already too many people in this country whose access to abortion care has been restricted because of where they live, where they get their insurance, or how much money they have or don't have. Hundreds of laws across the country have been explicitly designed to punish people who need abortion care, and it is communities of color, immigrant communities, and people with low incomes that are disproportionately impacted. The reality is that people in some states have to navigate nearly insurmountable barriers just to access care, including medically unnecessary waiting periods and the need to travel farther distances to get to clinics, which increases the cost if they have to pay for travel and child care. Medical professionals have a moral obligation to make sure that all of our patients' health care needs are met. That is why my colleagues and I demand that the Senate reject a nominee who will throw away the health care and fundamental rights of generations to come.
Kavanaugh's indirect answers to these important questions are concerning to say the least. In the meantime, here's how you can support women's health for the days to come.