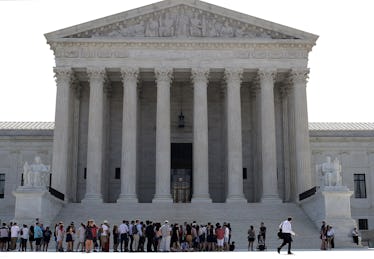 Here's How To Support Women's Health After The Supreme Court's Crisis Pregnancy Case
Chip Somodevilla/Getty Images News/Getty Images
The most recent news out of the nation's highest court is pretty sad news for pro-choice advocates. On Tuesday, June 26, the Supreme Court ruled in NIFLA v. Becerra that California can't make crisis pregnancy centers (CPCs) provide information about public programs that provide family planning and abortion services, arguing that it was a violation of the centers' free speech. It's a definite blow for women's health care, and now that the decision has been made, you might be wondering how to donate for women's health after NIFLA v. Becerra. Here's everything you need to know.
The ruling in National Institute of Family and Life Advocates v. Xavier Becerra came in a 5-4 vote, with the majority saying a 2015 law that required licensed medical providers to share info about available services with pregnant women "likely violates" the First Amendment. Additionally, the majority said the requirement for unlicensed providers, including CPCs, "unduly burdens protected speech," largely because many have religious missions and the act would conflict with their beliefs, per Newsweek. Considering the mission of CPCs is generally to dissuade pregnant women from having an abortion, the ruling has only confused and frustrated many onlookers.
Even so, the decision is the latest update in the long-simmering battle between pro-life and pro-choice advocates and could be indicative of what's to come from the Supreme Court as related to the future of women's reproductive health. In the meantime, if you're frustrated at this ruling, you can still help by donating to organizations fighting for reproductive rights and advocating for sexual health education. Check out these six, and rest assured that this fight is far from over.