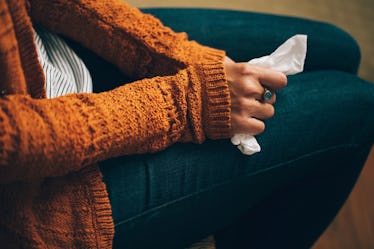 7 Types Of Breakups That Almost Everyone Goes Through In Their 20s
Your 20s are a time for living, loving, and learning. These are the years of your life when you're free to do pretty much whatever you want, especially when it comes to dating. Now is your chance to try new things, make mistakes, and have fun — whether you're single and dating or in a committed relationship. While your 20s are the ideal time to explore your romantic options, there is a downside. The more flings you have, the greater the possibility of dealing with tough breakups in your 20s. Because as you match, meet, and mingle with cuties of all kinds, you're bound to experience some heartache along the way.
The silver lining, of course, is that every instance of heartbreak makes you that much more resilient. Your 20s are all about learning valuable lessons, and your love life is no exception. To paraphrase Molly from Insecure, you gotta kiss a lot of frogs to get a good frog.
Just like people, breakups come in all shapes and sizes. It's true that no two relationships are exactly alike, but couples tend to be predictable. If you're actively dating in your 20s, you're almost guaranteed to go through these seven kinds of breakups at some point.