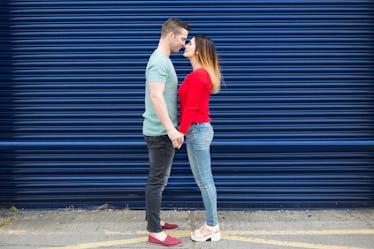 This List Of 9 Types Of People Everyone Dates In Their Early 20s Is Too Accurate
Your early 20s are most likely filled with adventure, fun, work and everything else you can fit into your schedule and budget. As you start your career and get into this whole adulting thing, you're might also be dating up a storm. Although everyone's experience is different, there are certain types of people you date in your early 20s that are fairly universal, and each type of person you date will affect your life and your life's trajectory in some way. Even the relationships that fail still offer you a gift of experience, a broadened perspective, or at the very least, a great story.
In my early 20s, I was working my first full-time job, paying for my own rent, and living without a roommate. I felt like the most adulty adult out there, and so it's not surprising that I briefly dated an older guy. He was the next logical piece of evidence I could present to the world to prove that I had my sh*t together. If a successful man in his 30s wanted to be in a relationship with me, well then, wasn't I mature, intelligent, and officially grown up? Nope! It didn't take me long to realize that he was interested in me as more of an ornament, not a serious partner. So I moved on, and on, and on! And that's the beauty of your 20s — it's a time of exploration and adventure, so if you find yourself dating one of these personality types, enjoy the ride.