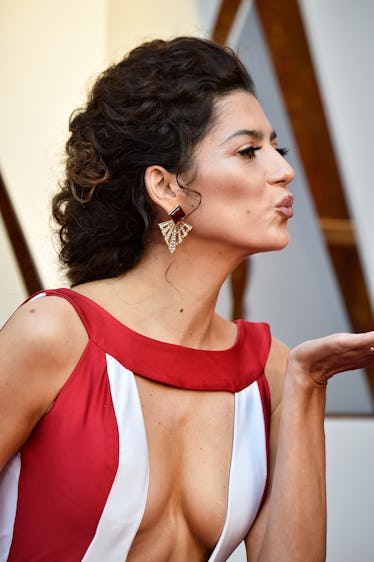 The Actress Who Wore Red To The Golden Globes Wore Another Shocking Outfit To The Oscars
Frazer Harrison/Getty Images Entertainment/Getty Images
Blanca Blanco stunned the world with her red gown at the 2018 Golden Globe Awards. Most other actresses wore black in support of the Time's Up and #MeToo movements, but she stood out in a most controversial way. Blanca Blanco's 2018 Oscars look is surprisingly similar to her Golden Globes red dress, and she is making no apologies for it.
The big story at the 2018 Golden Globes was that most actresses wore black in support of the Time's Up and #MeToo movements. The sartorial blackout was a large-scale protest toward the rampant sexual misconduct that occurs not just in Hollywood, but all over the world. Even Kendall Jenner was at the 2018 Golden Globes and wore black in solidarity. One attendee blatantly ignored the call for protest, however, and wore a daringly revealing red gown.
Blanca Blanco, whom many on social media had not heard of before the fateful night, wore a plunging red velour gown to the Golden Globes, and stood out to an extreme extent on the otherwise dark carpet. Tweets about Blanca Blanco dominated the internet, and the actress was the topic of conversation for days to come. She eventually spoke about her fashion choice and defended her right to wear red.
Actresses have not committed to wear black to the 2018 Oscars, but I wondered if Blanco would do so as a belated commitment to Time's Up. Alas, Blanco has exercised her right to dress herself however she pleases and has worn yet another ultra revealing red gown.
Blanco wore a red and white color block gown with a gaping neckline by Atria Clothing. This is the same designer who made her Golden Globes dress.
The Golden Globes 2018
Yup, this dress. Blanco's look at the Golden Globes missed the mark for the tone of the evening, between the bright red color and barely-there design, it left little to the imagination.
Blanco defended her Golden Globes look, telling Fox News,
I love red. Wearing red does not mean I am against the [Time's Up] movement. I applaud and stand by the courageous actresses that continue to break the cycle of abuse through their actions and fashion style choices. It is one of many factors leading women to a safer place because of their status. I am excited about the Time's Up movement; true change is long overdue.
Despite Blanco's self-defense statement, most viewers didn't appreciate her disregard for the seriousness of the movement.
Blanco also shared her prep for the Oscars.
The actress tweeted a sneak peak at her Oscars look with a mid-prep view of her beauty styling. She seemed proud and excited for the night to come, not at all nervous about any other future fashion scandals.
Blanco also teased her Oscars look about a week ago, alluding that she'd wear red for the big night. Spoiler alert: She did.
Blanco oozes self-confidence, which I admire her for, but she isn't exactly making up for her Golden Globes misstep.
Twitter had a lot to say about Blanco's look.
Not having a nip slip will be a miracle.
Some users wondered what merits Blanco to attend such a high-profile event.
Another critic had to cover his eyes.
Risqué AF.
One post reminded readers of the Golden Globes controversy: "Blanca Blanco did not care about the all-black dress code at the Globes, and she is NOT about to start caring now #Oscars90 #Oscars."
Some fans came to her defense.
"This girl is on fireeeee.... Blanca Blanco looking hot #Oscars," said one fan.
This tweet translates from Spanish to, "BLANCAAAAAA!!!!! I fell in love with your dress! 💃🏻💃🏻💃🏻 #BlancaBlanco #AlfombraRojaE #Oscars @EonlineLatino."
"#BlancaBlanco wears a plunging red and white dress with a deep thigh-slit on the #Oscars red carpet. 😍😍😍," wrote another fan.
Love it or hate it, you've got to admire Blanco's confidence.